The ServiceTrade + Sage 300 CRE Integration Streamlines Processes and Enables Quicker Invoicing
The ServiceTrade + Sage 300 CRE integration streamlines accounting processes, saving time and staff resources, all while getting invoices to customers faster. 
For ServiceTrade contractor, Total Fire Protection, the integration has had a big impact on accounting operations, allowing them to: 
Invoice customers 2-3 weeks sooner 

Decrease accounts receivable aging 

Eliminate duplicate data entry

Grow their customer base with no additional billing department hires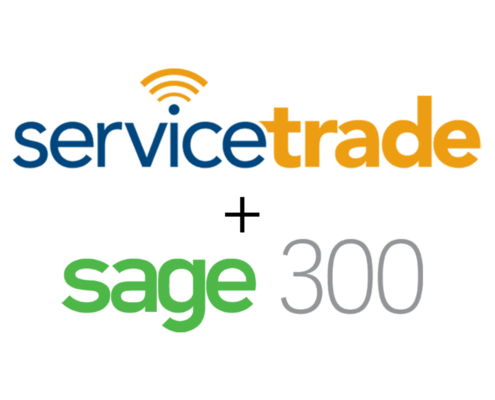 We chatted with Total Fire Protection Controller, Nicole Yonkers, to find out more about how the integration has benefited their accounting workflow. 
How have your accounting processes improved as a result of the integration with Sage 300 and ServiceTrade? 
Our billing got much quicker when we started using the integration between ServiceTrade and Sage. Now we can create invoices from the job information that's already in ServiceTrade and then have the relevant information flow directly into our accounting system.       
Did this eliminate manual steps in the process? 
Using the information in ServiceTrade to run our job costing meant we no longer had to set up a job in Sage 300 for every service job. We were able to pull job costs and do the markup for Time and Materials (T&Ms) from the data in ServiceTrade. This allowed us to get invoices to customers 2-3 weeks faster! 
What benefits have you experienced from ServiceTrade's integration with Sage 300? 
Quicker turnaround in regards to invoicing. We're now able to get invoices to customers within a day or two. 
In addition, accounts receivable aging has decreased. Having the credit card payment link on all of our invoices has improved cash flow. Now we see that many of our customers pay their invoices the same day, rather than sitting on their bill for the 30 days we allow. 
What accounting processes have most drastically changed as a result of the integration? 
Being able to rely on job cost, labor and materials in ServiceTrade rather than Sage 300 CRE created a much quicker and accurate process for reviewing, creating, and approving invoices. This helped us remove a lot of administrative work. Now we are able to invoice in 1-2 days.
Another significant time saver is that we only have to enter new customer data in one place. As we gain new customers, the integration allows for any new customer data entered in ServiceTrade to automatically load into Sage. So we're not duplicating those efforts anymore but are still able to keep our customer numbers consistent across our umbrella of companies.
We've grown a lot and still only require one full-time person for service billing. If we hadn't made these changes we would need three full-time people. We've saved a tremendous amount of time and money.
Want to learn more about ServiceTrade's accounting integrations? Contact a software specialist. 
https://servicetrade.com/wp-content/uploads/2022/04/servicetrade-plus-sage300.png
1200
1800
Molly McCormick
http://servicetrade.com/wp-content/uploads/2016/03/SERVICE_TRADE_LOGO_NO_TAGLINE_340x156.png
Molly McCormick
2022-04-12 10:06:40
2023-03-22 15:56:39
The ServiceTrade + Sage 300 CRE Integration Streamlines Processes and Enables Quicker Invoicing