4 Parts Management Questions with Chris Ruzika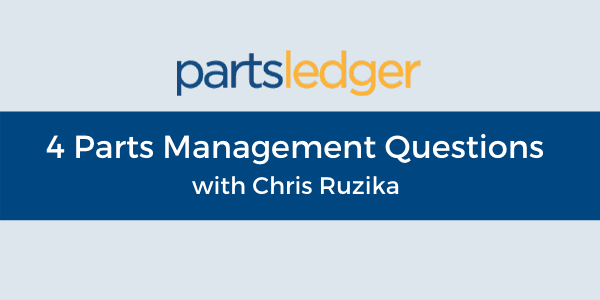 Chris Ruzika is Director of Administration at LifeSafety Management, Inc. in West Palm Beach, Florida. LifeSafety Management has served customers in South Florida for more than 23 years, and services a wide range of systems for their customers including fire alarm, fire sprinkler, fire suppression, and security systems, among others.

LifeSafety Management is a long time ServiceTrade customer, and was an early adopter of PartsLedger, ServiceTrade's parts management add-on product. We recently spoke with Chris about how parts management has improved since they adopted and implemented PartsLedger.
1. How were you managing parts before PartsLedger?
Prior to PartsLedger we were using our accounting system, Quickbooks Enterprise, for purchasing and inventory management. It was a workable system, though it required a lot of manual data entry by our employees.
2. What were the frustrations that led you to look for a new solution?
The sheer amount of manual transactions and data entry to keep our inventory in control was overwhelming. And because it was manual data entry, every part allocation and purchase order was an opportunity to input bad data that we'd then be tracking. Our back office was also required to do large month-end adjustments and reconciliations to keep systems in balance.
We also didn't like the limitations our QuickBooks-based parts management system put on us in the field. First, we had no way to track inventory by each vehicle. Our technicians are set up as small warehouses, and manually tracking this was too taxing to think about implementing. Second, since QuickBooks Enterprise is not a cloud hosted solution, you had to be in the office to create a purchase order. Finally, we wanted to get away from Quickbooks requirement that parts had to be listed on an invoice to relieve them from inventory.
3. Why did you choose PartsLedger out of all the options you considered?
Aside from the depth of integration with ServiceTrade, we trusted the ServiceTrade team's commitment to supporting and developing the product to meet customer needs.
4. How has PartsLedger improved your parts management process and the day-to-day life of your employees who are part of that process?
Purchasing Agent
The time spent on data entry has been cut in half for our Purchasing Agent, as transactions only have to be processed in one system, rather than two. He can also easily track multiple vendors' parts numbers and costs for the same manufacturer part. For example, a Fire-Lite BG-12 can be sourced from five of our vendors all with their own unique part number and cost.
Accounting Team
Our Accounting Team has two workdays of time back each month since they no longer have to spend that time on month-end inventory reconciliations and transfers. We also are able to understand our financial situation at any point in the month, where before we were missing the impact of inventory and inventory movements until the end of the month.
Billers
Our Billers no longer have to ensure that every item is accounted for on an invoice, and no longer have to change the invoice templates to correctly display what we want the customer to see.
_______
To learn more about Chris and the team at LifeSafety Management, Inc., visit their website. If you are interested in learning how PartsLedger can help you optimize your parts management process, request a demo today!
https://servicetrade.com/wp-content/uploads/2018/03/5-Questions-LSM-2.png
300
600
Ginny Allen
http://servicetrade.com/wp-content/uploads/2016/03/SERVICE_TRADE_LOGO_NO_TAGLINE_340x156.png
Ginny Allen
2020-03-10 08:57:32
2023-03-22 16:02:03
4 Parts Management Questions with Chris Ruzika