Why Google's Relationship with Home Advisor Matters to Service Contracting Businesses
There is a new chapter to the story of Google's expansion into home services.
In a ServiceTrade blog post that generated a lot of conversation among our readers, we told you how Google has been experimenting with changing search results for home services in San Francisco. (Re-read Google Home Services and its Impact on Small and Medium Businesses).
Now Google has partnered with Home Advisor to take advantage of the work they are doing to screen service contracting businesses, collect information about their services and connect them with interested prospects.
Google is trying a few different things.
Google obviously sees the opportunity to insert themselves between service companies and their customers and take a cut for streamlining the process. They have invested in three initiatives related to services:
Home service ads

Home Advisor partnership

Investments in ThumbTack and Homejoy
These are just the initiatives that we know about. It's fair to assume that they're cooking up more ideas and writing a story that ties them all together.
Here's the latest.
Google home service ads

are looking a little thinner as we head into the holidays.  The company is now testing a smaller initial window instead of what we saw in the first test program:
Book an Appointment through Home Advisor on Google.

 From the partnership announced in mid-November, it appears that Google will leverage the work that Home Advisor is already doing to identify and promote reputable service companies. 
About Home Advisor  Home Advisor is a pay-to-play website where service contractors apply to be part of the Home Advisor network. Home Advisor screens applicants and only promotes those that meet their background, business verification and financial standards (a rundown of the criteria is here.)  
Home Advisor provides instant booking services where customers request an appointment from a chosen vendor. Google is testing a Home Advisor instant booking widget directly on search engine result pages.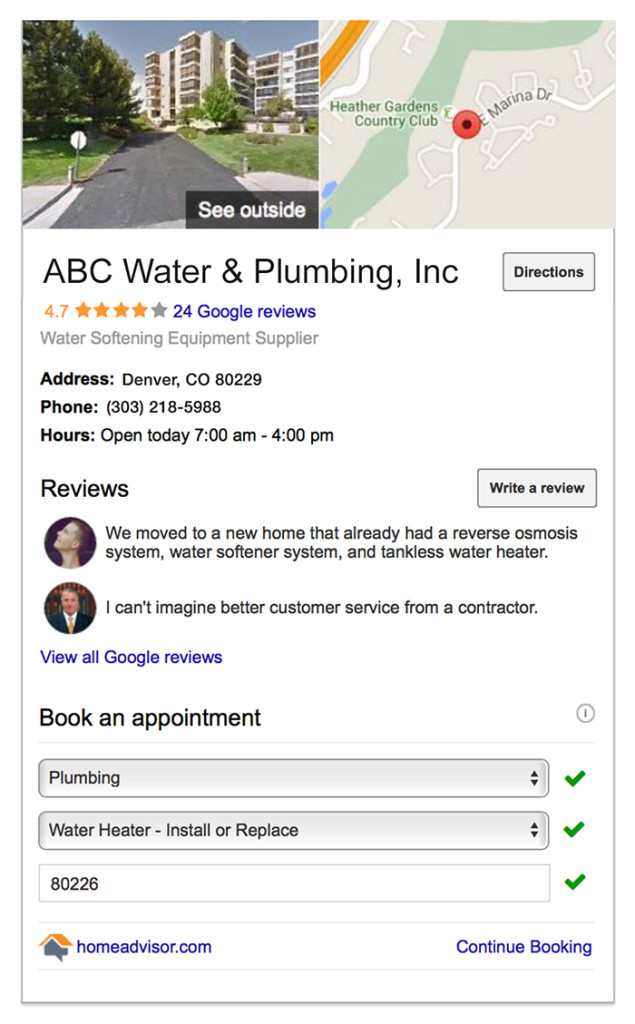 Impact on small and medium service contracting businesses.
The impact on search engine results remains a concern for our customers. Google's experiments with search engine results are good for a select few vendors, but potentially damaging to the visibility of reputable companies that aren't paying to play.
Google is banking on customers using their tools that put the process in one place instead of clicking through to your website from the organic search results. It's an attractive proposition for people who are busy and content to choose a vendor based on a prescreened list of highly reviewed companies.
While the efforts we see from Google are focused on residential services, it's guaranteed to affect companies that serve commercial businesses, too. My searches for commercial services return the same Google Home Service Ads and Home Advisor widget results as when I search for those residential services. Don't be lulled into false comfort if you don't provide residential services.
What to do to maintain your visibility to potential customers.
Google is in a position due to its size, deep pockets, and its search engine to drive a wedge between service companies and their customers and prospects. Here are a few preemptive steps you can start to take while we wait to see what Google is going to do and when it's going to happen.
If you are already listed on Home Advisor, great. If you're not, we don't see a reason to sign up for increased visibility in Google search result pages at this time. If you're considering Home Advisor, this may be another reason for you to go ahead. If not, we don't think you should make it a priority to join their network, especially if you primarily have commercial customers.
I'm just as curious as you to see what the next chapter will be and how the story will end.
Icon made by Freepik from www.flaticon.com is licensed by CC BY 3.0
https://servicetrade.com/wp-content/uploads/2015/12/Google_Page1-624x1006-1.jpg
1006
624
Shelley Bainter
http://servicetrade.com/wp-content/uploads/2016/03/SERVICE_TRADE_LOGO_NO_TAGLINE_340x156.png
Shelley Bainter
2015-12-16 15:56:01
2019-05-10 16:14:35
Why Google's Relationship with Home Advisor Matters to Service Contracting Businesses