Google Home Services and its Impact on Small and Medium Businesses
As we've been talking about for a while, Google is making a move into home services. This week we have a first look at how Google may be inserting itself into service delivery for customers who are using the search engine to find a vendor.
Google is testing Home Service Ads for users in San Francisco who are searching for plumbers, locksmiths, house cleaners and handyman services.  Though these are largely residential services, the search results will also impact those of us who are searching for commercial contractors, too.  The test is giving us some hints – and some concerns – about what the future may be for small businesses on the leading search engine.
A search engine results page for "Raleigh plumber" currently looks like this: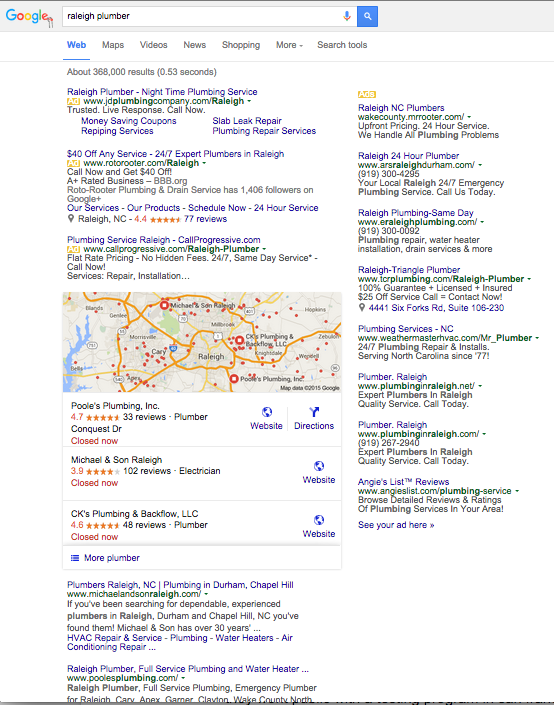 This probably looks familiar with Google AdWords text ads in the top sponsored positions in the main column, and down the right side of the page.
The map shows the location of local businesses that organically match the keyword search terms and the top three reviewed companies. It's worth mentioning that there used to be seven of these highest reviewed companies, the display was recently reduced to three.
This is what the test page looks like when searching for "San Francisco plumber":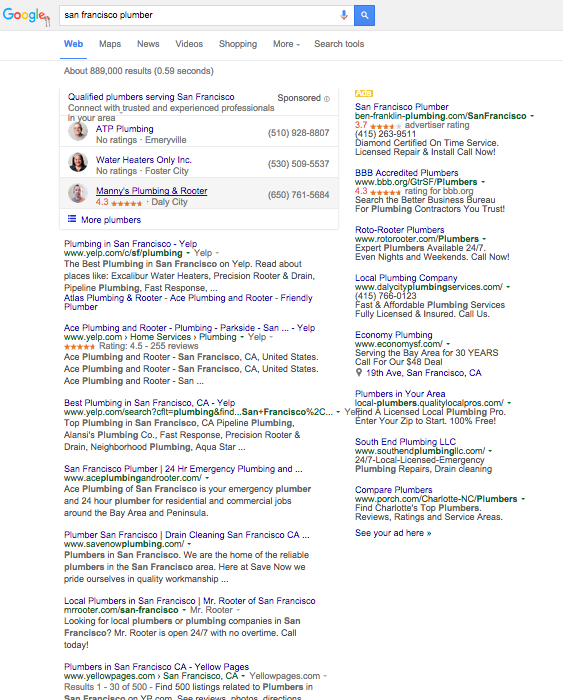 The biggest change is that the map and the top organically placed companies are removed. In its place are three companies that are in the pay-to-play Google Home Service Ads program. These companies have:
Paid for these placements. Google has not released any information about what this will cost or how it will be paid (percent of fees, fixed cost, or auction?)

Paid Pinkerton to conduct background checks for all employees who are sent on-site. There is no information available on the Google nor Pinkerton websites about what this costs.

Passed other screening conducted by Google for positive reviews, being insured and other criteria that aren't described in great detail today.

Source:

Google's website
Even the reviews listed in the Google Services Ad widget aren't the same reviews that are part of current Google My Business pages. They are limited to only the customers who have contracted with that business by using Google Service Ads service.
There are a few good articles that explain how these ads work for users. Read them here and here, and watch a demo video in this article.  The commenters on this Search Engine Land article seem to be small-medium business owners who voice some legitimate questions and concerns about how this change will affect the visibility of their businesses.
Marketing analysis
I'm a marketer, so I want to focus on the search engine marketing implications of Google Service Ads for service contractors.
Should you worry?
From a marketing perspective, yeah, I am afraid so. There's plenty for an independent service contractor to worry about here about your visibility and the increasing cost to stand out among your competition.  We're all going to have to watch closely to see how the test goes, what additional information Google releases, what additional services or markets they expand into.
Did you just disappear?
Service companies have been playing by Google's search engine optimization rules to earn a high rank on search engine result pages. They built their sites a certain way, they chose keyword phrases and placed them strategically, and they sought reviews from their customers. If you did all of those things, and did them well, you had a good chance of appearing as one of the big dots on the map and having your company be one of the three top companies.
On the test page, it appears that the only place where your SEO has an impact is in the organic search results in the main column of the page, below the Google Service Ads section.  This space is much more competitive because your business is now competing for top billing with sites like Yelp, Angie's List and national chains that have marketing resources that many SMBs can't dream of competing with.
It appears that for businesses not participating in Google Service Ads, that it's going to be more difficult or more expensive to be visible in the search engine.
Do reviews matter?
As I mentioned above, the Google Service Ads have their own review system. The reviews in the widget don't include the reviews shared by customers who have purchased services through any other way than through Google.
Even in the organic search results, none of the reviews that are currently on the Google My Business page show on the search engine result page.  It's unclear where and how the information and reviews in your Google My Business page will be used in the main search engine results page.
Yeah, what about my business page?
Will Google My Business pages appear anywhere in results?  How will they be accessed?  Will they be populated on the map?  As of this writing, the Map page for the "San Francisco plumber" search still places pins and review information from Google My Business pages. I hope this is the minimum of where those business page results are placed.  Our research has not uncovered any information about the relevance of business pages in the future of Google search result pages.
Change is coming
This has all been a reminder that Google is a for-profit company that has made itself an indispensable part of marketing and how our customers find our services. Google is now looking for ways to leverage that power and convert it into profit by becoming part of the service delivery.
The Google we've thought of as a free utility where a small investment would improve your visibility and give you a leg-up on the competition is slipping away.  There's a lot we don't know today about what SEO and SEM will become if the features of the Google Service Ads test are deployed nationwide.  We'll be watching and will keep you updated.
More about Google:
Google Wants your Service Business, Too
Is your website mobile friendly? Simple test to avoid Google penalties
I hate to leave you all with so much anxiety and uncertainty, so once again, here is my favorite dog gif from my blog post "Google Wants your Service Business, Too" about how Google has started eating your dog food.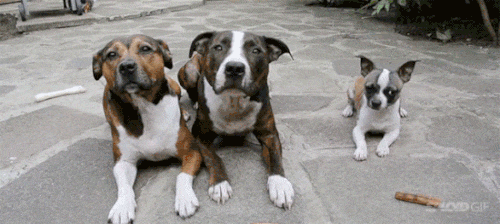 Icons made by Freepik from www.flaticon.com is licensed by CC BY 3.0
https://servicetrade.com/wp-content/uploads/2015/09/Raleigh_plumber-236x300-1.png
300
236
Shelley Bainter
http://servicetrade.com/wp-content/uploads/2016/03/SERVICE_TRADE_LOGO_NO_TAGLINE_340x156.png
Shelley Bainter
2015-09-02 09:59:08
2019-05-10 16:01:37
Google Home Services and its Impact on Small and Medium Businesses