Is your website mobile friendly? Simple test to avoid Google penalties
If you expect customers to find you online, they must be able to find you online.  Sounds like circular logic, but it is true.  Google is always shifting their rules to make their search engine more valuable to users and advertisers.  You have to keep shifting your website to avoid being pushed down the rankings.  The new rules say that mobile readability is important (your website should not be an eye test if viewed on a mobile device).  Check here to see if your site is already in the clear, and read on to review the new rules (from Google's update on the matter):
When it comes to search on mobile devices, users should get the most relevant and timely results, no matter if the information lives on mobile-friendly web pages or apps. As more people use mobile devices to access the internet, our algorithms have to adapt to these usage patterns. In the past, we've made updates to ensure a site is configured properly and viewable on modern devices. We've made it easier for users to find mobile-friendly web pages and we've introduced App Indexing to surface useful content from apps. Today, we're announcing two important changes to help users discover more mobile-friendly content: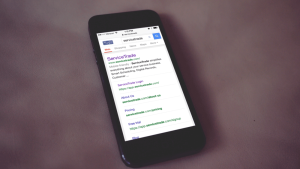 1.   More mobile-friendly websites in search results
Starting April 21, we will be expanding our use  of mobile-friendliness as a ranking signal. This change will affect mobile searches in all languages worldwide and will have a significant impact in our search results. Consequently, users will find it easier to get relevant, high quality search results that are optimized for their devices.  Do a search on  "mobile – friendly test"  to locate our website that you can use to test your website(s).
2. More relevant app content in search results
Starting today, we will begin to use information from indexed apps as a factor in ranking for signed-in users who have the app installed. As a result, we may now surface content from indexed apps more prominently in search. To find out how to implement App Indexing, which allows us to surface this information in search results.
What this means for service contractors (and for all others on the web) is that you MUST ensure your web presence is optimized for mobile.  Make sure that websites, blogs, and any other content you put out there is created with mobile in mind.  You cannot create a premium service contracting brand if it is difficult for your customers to find your company and your value online.
https://servicetrade.com/wp-content/uploads/2017/04/google-logo-small.png
100
296
Billy Marshall
http://servicetrade.com/wp-content/uploads/2016/03/SERVICE_TRADE_LOGO_NO_TAGLINE_340x156.png
Billy Marshall
2015-03-18 15:36:28
2019-05-10 12:48:58
Is your website mobile friendly? Simple test to avoid Google penalties