Case Study: VSC Completes Successful 15-location Implementation of ServiceTrade
For more than 50 years, VSC Fire & Security, Inc. has partnered with thousands of customers as a trusted contractor for the inspection and installation of fire sprinkler, fire alarm, security, life safety and low voltage systems. Founded in 1958 with the values of quality craftsmanship, exceptional customer service and solid company values of integrity and reliability.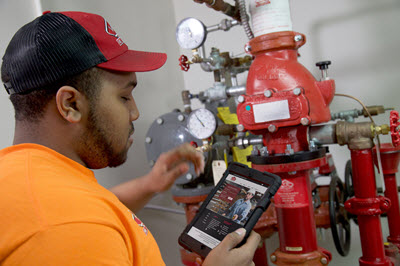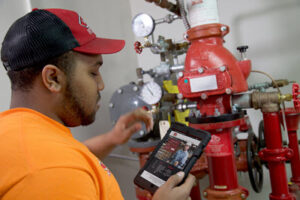 VSC Fire & Safety, Inc. is a top-tier fire protection, security, and life safety solutions company. Operating with more than 250 service technicians across 15 branch offices, VSC needed an application to standardize its customer service operations along with a quick implementation that didn't slow down services or require changes to their accounting system.
"It felt like ServiceTrade was part of our team."

-Kyle Kienzle, Dir. of Applications at VSC Fire & Security, Inc.
During the implementation, ServiceTrade assigned a dedicated services engineer to manage all aspects of the project. Similarly, VSC designated a single project leader on their end. Kyle Kienzle, Director of Applications at VSC, had the authority and understanding to do whatever was necessary to ensure a smooth, standardized roll out across VSC's many locations. The rollout followed ServiceTrade's standard implementation model scaled up to accommodate VSC's large organization.
"VSC's migration to ServiceTrade, across 15 offices, was simple, fast, and easy. They put the right resources in place to do things the right way. Their dedicated project manager was an invaluable resource for ServiceTrade's implementation team and for keeping the many moving parts inside the VSC organization aligned."

-Billy Marshall, ServiceTrade CEO
The "no IT hassles" promise of the ServiceTrade application with its intuitive user interfaces enabled a complete implementation for VSC in just four months, an impressive time frame for such a large enterprise. ServiceTrade handles all aspects of customer service for VSC including scheduling, dispatching, contract pricing, online quoting, and customer self-service. VSC is achieving goals for sales growth and higher customer satisfaction through better customer visibility. The ServiceTrade Service Portal on the VSC website offers customers a convenient, online account to view their service history and preview future appointments. ServiceTrade has helped VSC increase revenue, improve operational efficiency, and strengthen customer relationships.
"When VSC decided to go with ServiceTrade, we needed to adopt it quickly and make sure that every location was included. We met that goal and started seeing results in our service operations, customer service, and sales in ways that surpassed our expectations in a short amount of time."

– Fritz Mehler, VSC Fire & Security, Inc. CFO
After nine months of use, VSC has experienced several positive changes:
Customer commitments are consistently being met with 95% of inspections or service calls completed in the month they are due.
The number of quotes sent per month has increased to four-times the number that was sent immediately after implementation.
The company continually finds new revenue opportunities, especially in converting deficiencies into quotes at ten-times the rate of when they started using ServiceTrade.
The quote approval rate is closely monitored, reaching an impressive 90% in one month.
More than 16,000 online after-service reports were sent to customers, giving them valuable inspection reports and facility compliance information.


These trends show that after a successful four-month implementation that streamlined operations, VSC is also using ServiceTrade to improve their sales and customer service. The company is now much more agile and efficient – allowing them to adapt to industry, business, and cultural changes and quickly integrate new acquisitions. VSC is achieving its goals of growing and earning the reputation with its customers as a trusted steward of the safety of their employees, patrons, and property.
Successful integrations take the commitment and work on both sides. Learn more about ServiceTrade's services team that helps customers through onboarding, training, and ongoing support and training. Learn more.