Winning the Mobile Marathon as a Commercial Service Contractor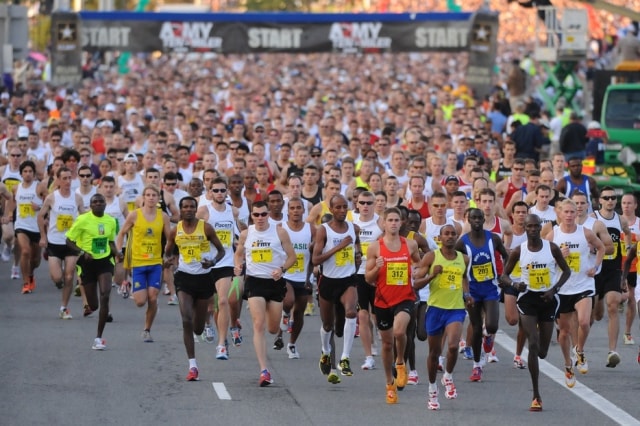 There are plenty of examples of companies that have built market success because of their use of mobile technology, including Domino's, Chick-fil-A, and Starbucks. Starbucks launched their mobile app in early 2011, and it included a mobile pay feature similar to a gift card. Mobile innovation has paid off for Starbucks. They reported that in the third quarter of 2017 approximately 30 percent of sales were transacted using the mobile app. The real win, however, is that mobile app users are spending three times more than other customers! Starbucks delivered an innovation that helps assure the loyalty of their best customers.
Starbucks and other stories of leading markets through mobile make perfect sense if you look around anytime you're out in public. Fifty percent of the folks you see have their noses in their phones, and the other 50 percent all have their phones within arm's reach. The phone has bridged not only the last mile to the customer but literally the last three feet.
What Market Leaders Know
If you are committed to leading in your market – if you expect to be the premium brand that is known for outstanding customer service – you must be committed to leading in mobile customer service just like Chick-fil-A and Starbucks. Fortunately it doesn't have to happen overnight, and there is still plenty of whitespace in the market. No one owns this space or has such a lead that you are forced to follow their example. You can define your mobile future.
The race to mobile customer service in service contracting is going to be a marathon and not a sprint. Just like a marathon, competitiveness begins with a commitment to a training routine. Using the marathon metaphor, let's lay out a basic program to get you prepared to compete for mobile dominance in your market.
First Milestone: Achieving Basic Fitness
No one serious about marathon competition just wakes up one day and decides to run a race the following day or even the following week or month. A basic level of fitness is required to even begin a serious training program; otherwise injuries plus mental and physical fatigue will seriously hamper achieving your goals. Basic fitness in this case means your current interfaces with customers are mobile-friendly.  Let's look at the three steps to achieving this first important milestone.
Start with a mobile friendly website
Use Google's mobile friendly analysis tool to test whether or not your current website is recognized by search engines as being easy for customers to use with a mobile device. Clearly your site needs to pass this test. Beyond that you should also be critical of the presentation of your brand value online in the mobile interface.
Does the basic information come across in an easy-to-consume manner?
Can the customer easily contact you by phone or email with a simple click? (They should not have to remember the number or email address to complete this task, just click.)
If they need to come to your office for some reason, will your address information launch a maps app for navigation?
Do the video case studies play on the device without the hassle of a separate app or, God forbid, a download?
If you are not comfortable about passing this basic fitness evaluation, and you are also not comfortable with your current digital vendor, find one or two that will give you a second and third opinion. They should happily do this for free for an opportunity to become your supplier.
Optimize your company's information in search
Next, make certain someone searching for you online can easily find your company, regardless of the device they use. Be especially critical of how the search results are displayed on mobile. Search results on mobile and desktop should be identical, but there are unseen variations that need to be in place for the best mobile presentation. In any case, anyone searching directly for your name should get lots of options for connecting with you online via their mobile device. Test it. If you aren't happy with the result, either hold your current vendor accountable or ask for a second and third opinion. Chapter 8 in my first book, The Digital Wrap, is a great place to start in understanding the basics for a service contractor website.
Ensure customer communications are mobile friendly
Finally, assess the mobile fitness of all of your other routine communications with your customers. This begins with a commitment to have both email and mobile contact information for all your important customer contacts. I have never once answered a call at my office landline. If someone leaves a message, it comes to my mobile phone and I decide whether or not I want to call them back by pushing a button. Any of my customers or important partners who really need me have my mobile number and my email.
You should be able to reach your customers the same way. Make collecting email addresses and mobile contact information a routine part of your customer intake process. If you are sending them any sort of email or text correspondence that requires them to download and print a document, find a way to change that pattern to a "just click here" routine that presents the information in a way that allows them to take action right away without the hassle of a download.
ServiceTrade's Quote Link and Service Link features are great examples of engaging the customer in a manner that invites them to appreciate your work and take action to award you more work without leaving the mobile interface. Send yourself test samples of several of the important correspondences you regularly exchange with customers. Evaluate whether or not you get the value from these messages without putting down your phone. If you are not happy, rework and reformat until you are.
Beyond Basic Fitness
Once you achieve basic fitness, you are in the top 10 to 20 percent in your market regarding ability to compete. Now it's time to begin the specific marathon training in earnest. In next week's post, I'll discuss ways to build beyond the basics to truly dominate your market and win the mobile marathon.
If you want to read more about the mobile marathon and how to compete in the future of commercial services contracting, check out my books Money for Nothing and The Digital Wrap.
https://servicetrade.com/wp-content/uploads/2019/04/Image-Marathon-e1556631674168.jpg
426
640
Billy Marshall
http://servicetrade.com/wp-content/uploads/2016/03/SERVICE_TRADE_LOGO_NO_TAGLINE_340x156.png
Billy Marshall
2019-04-30 09:30:22
2019-07-18 12:03:03
Winning the Mobile Marathon as a Commercial Service Contractor