WFH (Working From Home) FTW (For The Win)
There's some sort of bug working its way through our sales team this week, so everyone who doesn't feel 100% is working from home. The rest of us appreciate not being exposed to sickness while those affected remain productive in their home office. That's just one reason why having a flexible working environment is a good idea.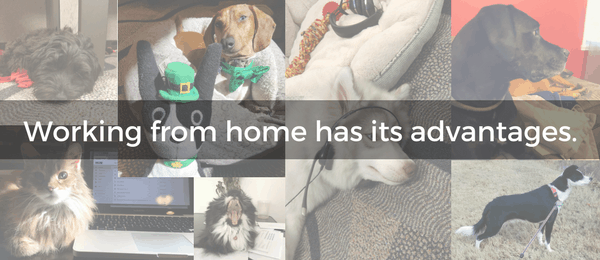 Service businesses that use SaaS and other modern technology have the freedom to offer such conveniences to their employees. If you're looking for a low-cost perk to offer employees, run a pilot program of working from or dispatching from home and see what works and what doesn't. Some ideas for a paperless office:
Dispatch technicians from their homes.

Allow schedulers and dispatchers to work from home. Forward their desk phones to the mobile phones and they can manage where field crews are needed now and in the future.

Sales and account managers use SaaS apps to access everything about their client accounts to make recommendations, create quotes, or create audits that will help sell a contract program.
I can't say that the risk of employees abusing the privilege is nonexistent, but if your expectations are clear it becomes the employee's responsibility to work ethically and do their job. I bet you'll find that many will do their work even better in appreciation for the trust and the convenience. Here's some evidence to back that up (source):
Many of us at ServiceTrade work remotely from time to time. Some examples:
David Varnedoe writes and records scripts for ServiceTrade Certification courses from his home office. Sometimes he records audio while in his closet, but that's a topic for another time.

Wes Cox conducts remote training from his home office. Wes and the rest of our services team can conduct webinar-based training from anywhere – and often do.

Shawn Mims spends hours doing the detail work of data management from the relative quiet and comfort of his couch under the close supervision of his two dogs.

I do a lot of writing from home for the same reasons – the quiet environment of my home office is more conducive to certain types of work than the bustle of the office. #2 above is a really strong selling point for me, too. That extra hour of sleep I get because I'm not commuting makes me a new person!
One thing that stood out to me at the 2016 Digital Wrap Conference was watching several owners of our customer companies log in to their ServiceTrade account to check in on what's going on in the field. You simply don't have to be in the office to know what's going on in the business and to keep it efficiently moving forward. Today's technologies offer many employees the freedom to do their work or dispatch from home, the coffee shop, or even on vacation if an emergency pops up. Why not offer this as a low-cost perk to your employees?
https://servicetrade.com/wp-content/uploads/2017/06/wfh.png
260
600
Shelley Bainter
http://servicetrade.com/wp-content/uploads/2016/03/SERVICE_TRADE_LOGO_NO_TAGLINE_340x156.png
Shelley Bainter
2017-06-28 11:03:28
2022-08-29 09:09:36
WFH (Working From Home) FTW (For The Win)