5 Ways To Help Your Techs Do Their Best Work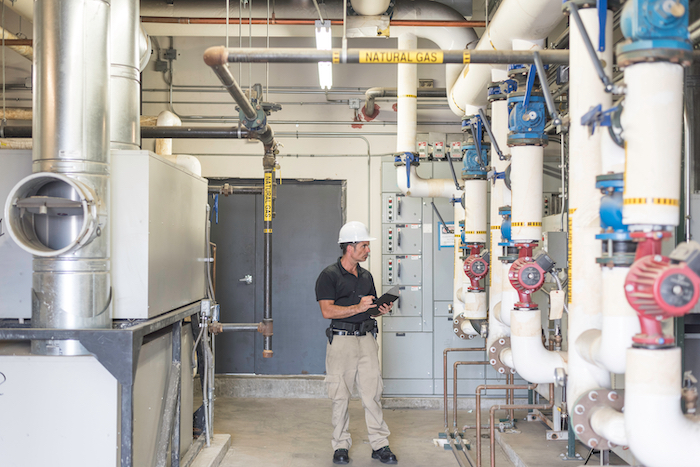 Productive and happy techs are the lifeblood of any service business. And while they're out in the field working hard, it's your job to equip them with the tools they need to do their best work. Exceptional service and peak productivity are only achieved when you provide your techs with:
Uninterrupted focus to do their specialized work

All the job and facility information they need

Thoughtful, efficient routes

Sufficient training

Technician-friendly software
Supporting your techs will not only result in a happier field team but will positively affect your entire commercial contracting business. You can improve employee retention, customer experience, overall efficiency, profit margins, and more by helping your techs do their best work. Here are 5 ways to do so. 
1. Remove administrative burdens
One of the most significant challenges for commercial technicians is the administrative work that lands on their shoulders. Clunky paperwork processes, customer communications, quoting, invoicing, and dozens of other time-consuming jobs can be eliminated with software and office staffing.
Freeing up your techs with software-powered automation and/or additional office resources is, of course, a business decision—but it's a smart one. As the skilled labor shortage shows no sign of ending, prioritizing your technicians' bandwidth and job satisfaction will not only help you hang on to your valuable techs, but it will also improve customer experience and make room for growth.  
2. Provide all the job, equipment, and facility information they need 
No one wants to show up to a job unprepared. Your techs will do their best work when they have easy access to work order details as well as any historical records associated with the equipment or facility. Cloud-based software that centralizes data is an excellent way for your team to share special knowledge (i.e. "Equipment only accessible by staircase on 3rd floor."), existing equipment issues, and other details techs need to do their jobs. 
When techs can easily access all the information they need on their devices, it makes for less frustration, more efficiency, more confidence—and better service.  
3. Reduce windshield time 
Thoughtful scheduling and dispatching are crucial when it comes to helping techs do their best work. By assigning the right technician to the right job and minimizing time on the road, you can improve the efficiency and quality of their service. Effective scheduling can also help ensure that technicians are not overbooked or underutilized, maximizing your team's capacity and improving tech happiness. 
4. Provide ample training
Training means something different for every contractor. It may be an apprenticeship program, on-site mentoring, or classroom training to learn company procedures or how to use provided technology. Whatever the case, providing thorough and engaging learning opportunities will help your techs perform to your company's standards and maintain consistent quality service. 
5. Empower techs with technician-friendly software 
Powerful service software with easy workflows will help techs document their work more thoroughly while improving efficiency and transparency. The best service platforms will be cloud-based for instant sharing of information between techs, service managers, office staff, and customers. 
—
Want to learn how ServiceTrade can help your techs do their best work? Schedule a discovery call with our team. 
https://servicetrade.com/wp-content/uploads/2023/05/HVAC-Inspection-.jpg
467
700
Molly McCormick
http://servicetrade.com/wp-content/uploads/2016/03/SERVICE_TRADE_LOGO_NO_TAGLINE_340x156.png
Molly McCormick
2023-05-16 08:31:33
2023-05-16 08:31:33
5 Ways To Help Your Techs Do Their Best Work