Two Ways for Contractors to Attract More Service Technician Job Applications
Your reputation has always been important when recruiting talent because the best techs want to work at the best companies. But the mediums job seekers use to search for potential employers has changed. Word of mouth is still around but pales in importance compared to your company's online reputation. Before a job seeker even applies, your website, social media presence, and online reviews help them through the first two phases of the job hunt: Discovery and research.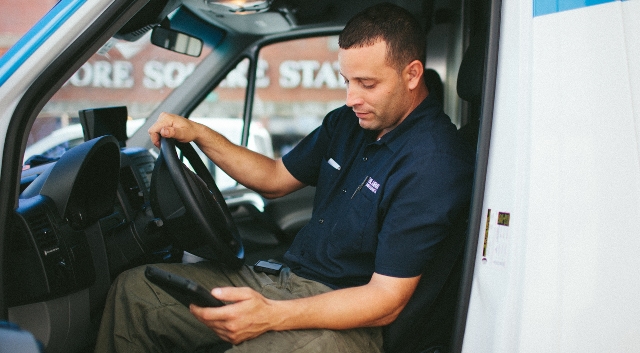 1. Be Easy to Discover
When a technician starts their job hunt and isn't familiar with all the local companies, where do you think they start? Google, of course. They'll search for companies in their industry and the top results will be the first companies they research. That's how Google has trained us all. The top search results are the best bet, and searching for local companies is no exception. Fortunately, the fresh, dynamic content created by your Digital Wrap is exactly the kind of indicator Google uses to rank websites. Just by performing the day-to-day tasks associated with the services you offer, your techs will be collecting customer reviews and generating rich content that will help prospective employees (and customers) discover your company.
Millennials, almost exclusively, find and research new job opportunities online. Most of my millennial friends discovered, researched, and applied for their current job completely online without talking to a single person. From discovery on Google or a job board to exhaustive research of prospective companies, they did everything on their laptop or smartphone. They browsed the company website and social media for information about the mission and culture. Where applicable, they researched customer reviews. They paid especially close attention to the reviews from current and past employees.
Indeed and Glassdoor, two of the largest job listing websites, are the dominant players when it comes to company reviews by former and current employees. When you Google a company by name, the employee rating of that company on Indeed or Glassdoor are often in the top results. Very quickly, a potential candidate can see what real employees think about a company. This can work for or against you. From a job seekers perspective, zero company reviews is concerning, a bunch of bad reviews is a death knell, and a mix of mostly good reviews is a great sign. I say a mix because people will be suspicious of your reviews if they are all five stars. Just like with your customers, it's ok to ask your employees to leave a review of your company, just be sure that the review truly represents what they think, not what you think. Don't instruct them to leave a good review and be responsive and respectful of any results you receive.
2. Be Easy to Research
If they find your company online, potential employees are going to look at your company website before they apply for a job. Is your website going to help recruit them? Does it have the information they 're looking for? Candidates aren't just searching for a company that has an opening. They want to know about company culture and values. What do you stand for? They want to get a feel for what it's like to work there. Is it fun? Is it challenging? They want to know what the opportunities for growth are. Will they advance their technical skill set or have an opportunity for advancement? They also want an easy application process. The bigger the barrier to applying, the fewer candidates you'll receive. For example, a simple, mobile-friendly web form that collects their name and phone number with a call to action like "Are you a skilled technician and want to learn more about working at Aardvark Services?" will receive a lot more candidates than a Byzantine application process that asks candidates every possible question and requires them to upload a resume. You'll definitely do more work to qualify candidates and get more that aren't a fit but, in the midst of a skilled labor shortage, that's an acceptable cost. Chances are, you'll lose candidates you want before they even have a chance to apply if your application process is too difficult. Keep it simple.
Social media is a powerful tool when recruiting, especially Facebook and LinkedIn. When a candidate is considering a company, most will review the company's social media profile and posts to learn about the brand. Compared to the corporate website, job seekers expect to find a candid representation of the company's personality. Posts about company events, employees, and corporate values go a long way to help them get a better feel for the company.
It'd be nice if you could meet all of your hiring demand with a flood of great candidates that found you online, but that's not going to happen for every company. Most likely, you're going to have to get your hands dirty and actively recruit new employees. Armed with a reputable brand and a strong presence online, it will be easier. All you have to do is ask.
For entry-level office and field positions, one ServiceTrade customer Guardian Fire Protection has another interesting recruiting approach. Once a month, they host an open door interview day. Anyone who shows up is guaranteed an interview. Now, some interviews are MUCH shorter than others, but everyone gets a shot. They advertise the event through craigslist, social media, and through their website. For a relatively low investment of time and money, they've filled multiple open positions. When they ask successful candidates that show up on the interview day why they didn't just apply online, candidates often say that they didn't feel like their resume was good enough.
If potential employees don't already know about your brand, your website and reviews should drive discovery through search engine optimization. Once they discover your brand, your online reputation should drive their research to the conclusion that you are a great company to work for and that they should apply. You can do a lot to help your recruiting efforts by making the discovery and research easier for job seekers. Want a big bonus? Being easy to discover and research will help out your potential customers, too.
https://servicetrade.com/wp-content/uploads/2018/07/bluehat-tech-in-van.jpg
353
640
Shawn Mims
http://servicetrade.com/wp-content/uploads/2016/03/SERVICE_TRADE_LOGO_NO_TAGLINE_340x156.png
Shawn Mims
2018-07-11 16:18:38
2023-03-22 16:15:15
Two Ways for Contractors to Attract More Service Technician Job Applications