Who has better pizza, Domino's or Papa John's? I do a lot of presentations about these companies and when I pose this questions to audiences, usually they're split right down the middle. Personally, I'm a Domino's fan. From a value perspective, however, our opinions about who has better pies don't really matter. Here's what really matters: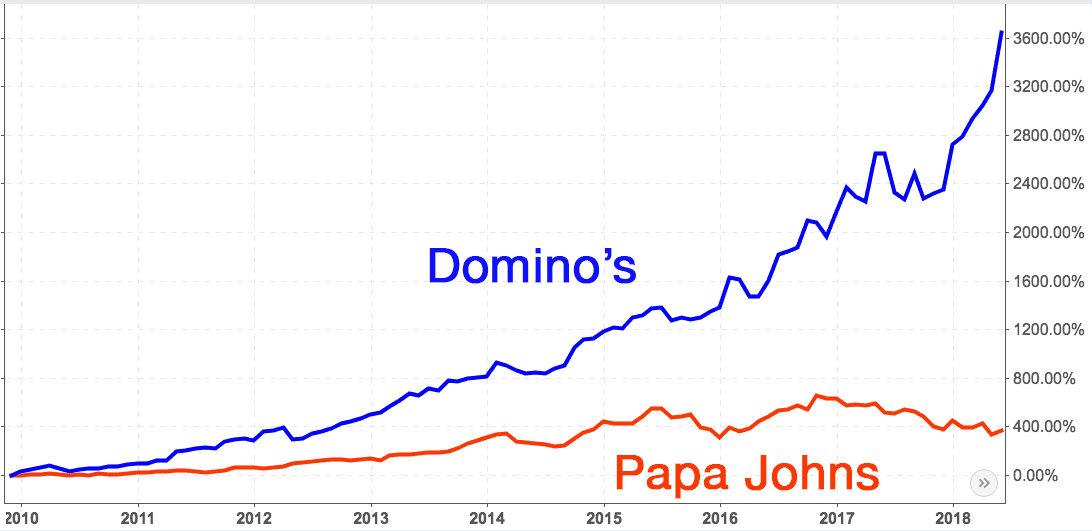 Domino's is CRUSHING Papa John's and they have been since 2009. In fact, Domino's stock has outperformed Amazon, Apple, and Google in the last 9 years. For every dollar you invested in Domino's in 2009, you'd have $36 as of the writing of this blog post. Compare that to $10, $5.50, and $2.75 for Amazon, Apple, and Google respectively. Papa John's, on the other hand, would be worth a respectable $3.75, but it's been on a steady decline for the past two years.
These numbers are surprising considering how ubiquitous Papa John's marketing is. It's practically impossible to watch sports without hearing their slogan, "Better ingredients, better pizza." They're everywhere. Domino's spends plenty of money on advertising too, but their marketing strategy went a very different direction starting in 2009. It's best summed up by their CEO, Patrick Doyle, who said:
"We are as much a tech company as we are a pizza company"
What technology do you think he's talking about? Their accounting platform? Their point of sales systems? Their pizza ovens? No. He's talking about their customer-facing technology like their Pizza Tracker and mobile apps. While Papa John's has been pouring money into billboards, radio ads, and TV spots, Domino's hired the best web and mobile developers, built an incredible R&D team, and took a massive risk on the future of smartphones. In fact, an interview in 2015 revealed that around 300 of their 700 employees at their corporate headquarters were focused on technology, not pizza (or accounting). Here's another one of Doyle's quotes:
"We believe by transaction counts we're in the top five of e-commerce companies in the world."
That's unbelievable for a pizza company. On the other hand, Papa John's sales are sinking and their stock price is sliding. They're trying to blame their poor financial performance on the recent drama and viewership decline in the NFL. The reality is that they got left in the dust. Nine years later, they're trying to catch up to Domino's with Papa Track, their answer to the Pizza Tracker, but it's too little too late. They're sitting at the starting line coughing up dust while Domino's is off to the races.
Domino's figured out how to differentiate their offering with something more valuable than close-ups of melty cheese and empty platitudes like "Better ingredients. Better pizza." Really? Does anyone buy that Papa John's really has superior ingredients and better pizza? Can they prove it? Sadly, I've heard a lot of service contractors use a very similar line. "Better techs. Better service." Really? Do you think anyone is buying that? Even if they do, it's impossible to convince the customer that it's true. So, why bother? Instead, take a page from Domino's book. Offer customers a better experience with service certainty.
Domino's thoughtful investments in technology are cutting edge because they focus entirely on the customer as opposed to logistics and accounting. Everything they build is for the customers' express benefit. In some cases, they even added administrative work for their in-store employees to improve the digital outcome for the customer. Their Pizza Tracker is semi-automated, but Domino's employees still have to manually update the system a couple of times to alert customers about the progress of their pizza. For example, every time a pizza is ready for the oven or put in the car for delivery, whether or not the customer is actively using the Pizza Tracker, some Domino's employee has to update the system just in case a customer decides to check in on their order. They sell more than 2 million pizzas a day. If we assume an average of 1.5 pizzas per order, that works out to almost 1 billion manual system updates a year. That's a lot of Domino's data entry! And, for what? The customer. It's that simple.
Obviously, Domino's has limited the cost of these billion customer updates substantially with a technology-enabled process. They're not picking up the phone and calling their customers multiple times per order to update them on the progress. That would be ridiculously cost prohibitive and annoying for the customer. Yet, that's exactly how most service contractors think about solving the same problem! Better call the customer or send them an ad-hoc email to let them know what's going on with their service. That's an expensive approach so it's either reserved for premium clients or doesn't get done at all. Why not give every customer a great experience and let technology solve that problem by incorporating it into the standard workflow? For example, instead of having techs call, email, or text to alert the office and customer that they are on the way to a service call, incorporate technology (like ServiceTrade) that will, with a few clicks, log the techs drive time, update the office staff, and send an en route notification to the customer with a picture of the tech and estimated time of arrival. Or, instead of signing a paperwork order, waiting for it to get back to the office, scanning it, and emailing it to the customer with an ad-hoc summary and picture attachments, how about incorporating technology (like ServiceTrade) that will automatically send all this information to the customer the moment they sign the digital work order? Even if it adds a few new points of quick data entry, it'll remove a boatload of calls and emails.
For Domino's, however, there were no cost savings with their new workflow. They weren't calling or emailing the customer to update them on their orders in the first place so these billion data entry points were a net new expense. Despite that, they don't even think twice about the cost because they understand the value of MIPS, or Marketing Impressions Per Service. MIPS is the heart and soul of Domino's customer experience strategy. For each service (or pizza) delivered, a series of useful notifications are sent to the customer updating them on their purchase. In Domino's case, customers receive push notifications on their mobile device throughout the process. From prep to bake to delivery, customers are notified about every step and each notification links back to the Pizza Tracker, the visual manifestation of MIPS.
When you order a pizza for an office full of hungry coworkers or a house full of famished kids, you want certainty about your order. Hangry and anxious, they'll look to you for one answer: When will the pizza arrive? At this point, you can either be a zero or a hero. If you're in the dark and you leave your compadres in limbo, the anxiety will escalate and you're going to be a zero. Compare that to the certainty of "it just got boxed up and should be here in 12 minutes." That's more like it! You'll be the hero. Next time you want a pizza, who are you going to call? The company that made you a zero or the one that gave you certainty and made you a hero? When your customers have failing equipment or systems in their building that impact their tenants, customers, or coworkers, do you think they'd rather have the hero or the zero? This doesn't just apply to emergency service work. For standard maintenance or inspection work, they'd rather be certain about what's going on so they can keep their colleagues up to date, make arrangements on their end, and have peace of mind about the work being performed.
At the end of the day, all facility owners and managers really want is certainty. Strategically, that means certainty about their facility budget. Tactically, that means certainty about the facility services they receive from day to day. They want certainty about everything from when the tech will arrive to how they should resolve equipment issues. MIPS give your customers tactical certainty by giving them the information they need to make good decisions on a service-by-service basis. Service certainty can distinguish you from the unpredictable, unreliable competition.
https://servicetrade.com/wp-content/uploads/2018/06/dominos-vs-papa-johns.png
531
1092
Shawn Mims
http://servicetrade.com/wp-content/uploads/2016/03/SERVICE_TRADE_LOGO_NO_TAGLINE_340x156.png
Shawn Mims
2018-06-20 16:32:20
2019-05-10 21:43:20
Service Certainty