8 Ways to Sell Commercial HVAC Service Contracts in 2023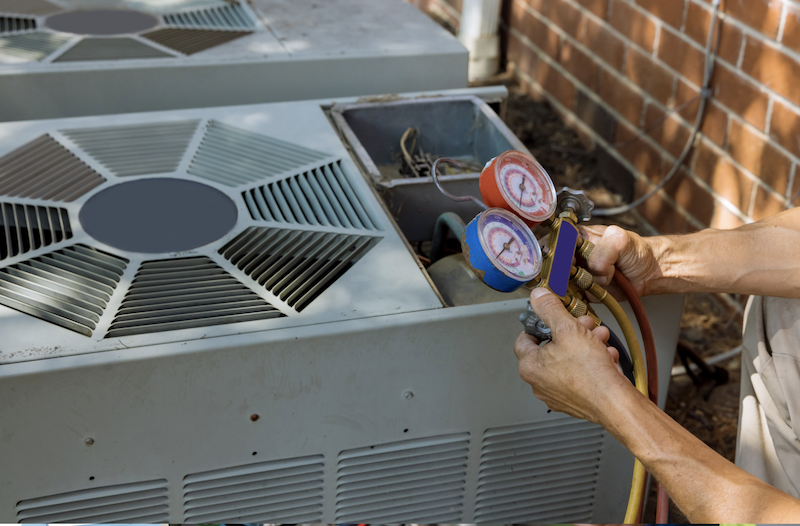 Service contracts and maintenance agreements are a core focus for commercial HVAC businesses. They reduce your need to drum up constant business by allowing you to rely on steady income from existing, long-term clients.
The benefits are therefore pretty clear, but the means are a little more opaque—namely, how can you convince people to sign a contract with you?
The good news is, there are a few different ways to package such agreements to make them attractive to clients; you just have to do it in a way that clearly demonstrates value to the client. If you're wondering how to sell HVAC service contracts in 2023 and beyond, look no further.
Elements of Commercial HVAC Service Contracts
Before we discuss ways to sell mechanical and commercial HVAC service contracts, it's beneficial to understand what commercial HVAC contracts include.
Service agreements come in many forms, with many variable terms, depending on your business and customers. The main variables are similar across the board, though, and should include:
How often the service will occur

Whether the service will happen on a regular basis, or a set number of times as needed

Which services are covered under the contract 

How often full

preventative maintenance

on

HVAC equipment

will occur (versus, say, quick routine inspections)
The Value of Commercial HVAC Maintenance Agreements
HVAC service contracts are hugely beneficial, and not just for the service provider in terms of monthly revenues.
In fact, they give the customer peace of mind, demonstrating to them that they don't need to be on alert for problems or breakdowns in the system. Instead, they can rely on you to ensure that doesn't happen – and to take care of things pronto if it does. Plus, as the economy slows, many facility owners and managers will move toward maintaining their current equipment (rather than replacing it).
What does that mean for you? Well, if you're a business that relies largely on installs and/or construction projects, you may find leaning into service a good strategy for the year and beyond. If you're a company who already focuses primarily on selling service contracts, then this is a good time to sell bigger contracts to better customers.   
8 Ways to Increase Service Agreement Sales for Your Commercial HVAC Business
There are numerous ways that commercial HVAC companies can increase sales of service agreements, and we've covered 8 here. Note that you don't need to try and implement each of these ways of selling HVAC service contracts all at once. That will quickly lead to overwhelm and a disorganized business strategy – and no one wants that.
Instead, read through this list and choose two or three you think could mesh pretty well with your current business development strategy. Start with tips 1-4 to ensure a solid foundation of service contract value and sales strategy. As you successfully weave those into your routine, add a few more.
With patience, you will transform your commercial HVAC business into one that is not only lucrative but resilient against economic changes.
1. Get Your Team On Board
It may seem unnecessary to say, but sometimes you need  to start with the basics and make sure everyone on your team understands the value of selling maintenance contracts to commercial HVAC clients. If the people who work for you don't see why a maintenance contract is of value, then you can't expect them to jump on board readily. 
More than knowing what's in it for them, though, your staff need to comprehend what's in it for prospective customers. Only then can they effectively sell it while they're on the phone or in the field. And since your staff are often the face of your company – you can only be in so many places at once, after all – you need to trust them to get the job done.
If you haven't already, make sure you sit down with your team and talk through service contracts: why they matter, how to tell customers about them, and how to follow through.
2. Sell What Your Prospect Needs 
Don't oversell your prospect on a ton of services that you know they don't need yet — that's no way to instill confidence and keep your customer long-term. On the same token, you shouldn't undersell them in order to get them to a lower monthly rate, either. They need the services they need in order to keep equipment running and by providing fewer services than necessary, you may end up neglecting some equipment, leading to breakdowns and decreased customer trust.
The best way to respect your customer base is by providing detailed proposals that explain exactly what, when, how, and why each service is recommended. If you are proposing a package or contract, you'll need to give a good reason why they should pay you more money upfront, or over a period of time, rather than as needed for maintenance visits. In fact, that's one reason selling service agreements can be difficult.
However, if they see a lot of value in your explanation, they will perceive it not as a money grab but as a good-faith effort on your part to help them. Getting granular in your agreement reasoning and performance details can help not only get their business, but ramp up your referral traffic as well.
3. Reach the Decision Makers 
The building engineer might seem like the smart person to reach out to, and in some cases, maybe they are – if only to get in the door. But you'll learn real quick who the actual decision maker is in the situation, because you simply cannot sell a long-term agreement to gatekeepers or maintenance personnel.
When you call or contact the company to discuss your contracts and services, ask clearly for the person who can give the go-ahead. Don't be afraid to say "Are you the one who makes these decisions? Are you able to greenlight a deal if you're happy with what I can offer you? Great! When should we meet?"
4. Sell the Program 
It's not enough to sell the idea of maintenance. Your customers understand why a company wants to get them on a contract. Instead, make them understand what's in it for them.
Don't sell promises. Instead, sell examples that show them exactly what you provide and where you've provided it in the past. Explain how service lowers costs, reduces risk, and increases protection. Additionally, show them the program you use to track their visits and check in on their system. Make yourself out to be a benevolent Big Brother who knows what's best so they don't have to think about it.
If you don't know how to do this, read up on some companies that are doing it well and the takeaways from their success.
5. Offer Flexible Maintenance Plans
Business owners know they need regular maintenance, but they're wary of signing up for something they might not need as often as they pay for. This is especially true if the only maintenance plan you offer includes a ton of the bells and whistles that your customer knows they won't need.
Combat this with a range of tiered, flexible maintenance plan options. Perhaps one plan provides the absolute bare minimum, while the next offers a few nice-to-have services, and the top-tier plan pulls out all the stops. Or, think about creating an a-la-carte maintenance plan option to provide the ultimate in flexibility. Whichever structure you go for, make customers understand that your plans keep warranties in effect and ensure every HVAC unit receives the timely maintenance it needs, all without having to spend unnecessary funds.
6. Make Your Business Visible and Reputable Online
A leading study by Podium says that 93% of consumers pull up online reviews and rely on them when making purchase decisions. So, if you're not already putting a sizable effort into maintaining your online presence, you're a bit behind the game.
That said, you can catch up. You'll need a website with a local SEO presence, and good reviews for prospects to find. Create a Google My Business account if you haven't already, and encourage each and every customer to leave positive reviews about their experience with you.
7. Improve Retention by Providing Exceptional Customer Experience
Customer experience is just as important as your online presence. It's important that you know what customers go through at every phase so that you can adjust your process to hit the highest possible satisfaction marks. Request feedback, take surveys, and maintain open lines of communication at all times, even after they sign on the dotted line. Especially after they sign on the dotted line.
Maintaining a great customer experience and securing those online reviews will bring customers to you organically, majorly reducing the amount of work you have to put in.
8. Use a Sales Software Built for Service Contractors
NorthBoundary, the latest addition to ServiceTrade's suite of products, is a robust software solution that enables your team to create accurate proposals and manage your sales funnel to win and retain customers.
–
Want to learn more? We encourage you to sign up for a free demo and see the full ServiceTrade platform in action. It's never been easier to use HVAC service agreements to build your business in 2023 and beyond!
https://servicetrade.com/wp-content/uploads/2023/03/HVAC-Contracts.png
526
800
Molly McCormick
http://servicetrade.com/wp-content/uploads/2016/03/SERVICE_TRADE_LOGO_NO_TAGLINE_340x156.png
Molly McCormick
2023-03-16 09:07:37
2023-03-24 14:59:49
8 Ways to Sell Commercial HVAC Service Contracts in 2023