How to Recruit HVAC Technicians for Your Commercial HVAC Company
Skilled technicians are the backbone of successful commercial HVAC businesses. However, it's no secret that finding qualified HVAC technicians and retaining them is one of the biggest challenges managers and business owners face. In a cut-throat industry, where employees are poached regularly by competitors, it's essential to recruit the best HVAC technicians and keep them longterm. 
In this article, we'll talk about the most efficient and effective ways for commercial service HVAC companies to attract skilled labor, hire the best techs, and retain their top talent longterm. 
Start with a great job description
Creating a job posting is the first step to finding and recruiting qualified technicians. Managers and owners with technical experience should contribute to job postings, even if you've tasked an outside recruiter with the hiring job. It's all about crafting a standout job description that attracts top talent and clearly sets expectations for the job.
Write a compelling job post
Remember, as much as you're trying to find the best candidate, job seekers are trying to find the best employer. For that reason, your job post should promote both the tangible benefits—like competitive pay, paid time off, and health insurance—and the intangible benefits—like company culture and mentorship opportunities—of the job.
Clearly define required skills and qualifications
Make required skills and qualifications easy to spot within the job post. This cuts down on bad-fit applicants and will save you time in the application review process. Many hiring managers also like to include additional desired skills and qualifications. This helps job seekers better understand the expectations of the job while helping you define what an ideal applicant looks like.
Tip: Use concise bullet points and bolding to highlight these sections. A standout skills section might look something like this:
Required Qualifications & Skills
5 or more years of HVAC service technician experience.
3 or more years of diagnosing, inspecting, repairing, and maintaining commercial grade HVAC systems.
Valid driver's license with clean 3-year MVR.
EPA Universal Certification.
Additional Desired Qualifications
3+ years of installing commercial grade HVAC systems.
EPA Type II Certification.
You may also post a separate job posting for entry-level technicians with fewer qualifications. Be sure to mention that you're willing to train these techs and welcome anyone with your minimum qualifications to apply.
Offer a competitive salary & benefits
Salary, wages, and benefits are top incentives for technicians when they're searching for a job. Skimping on pay and benefits isn't an option in a competitive market, and highly skilled, reliable technicians will expect competitive wages.
In addition to competitive wages, you can gain an edge over other companies by offering employee perks like hiring bonuses, fun company events, mentoring or on-the-job education, and performance-based bonuses.
ServiceTrade makes it easy for creative managers to incentivize performance by tracking activities like clock events, jobs completed on time, deficiencies found, rich media attachments.
Additional tip: While you build your budget and strategize recruiting tactics, don't neglect your current technicians. Employee retention is the best way to keep your team fully staffed and your business healthy. Remember to appropriately compensate your techs as labor costs change, keeping in mind that the competition is eager to recruit your best HVAC techs.
Advertise your technology (and why it makes you better than your competitors)
In a competitive labor market, advertising how and why your tech solutions make you a better employer can go a long way. We suggest that companies who use ServiceTrade highlight the software in job postings and the advantages it gives their staff (less windshield time, dispatch from home, fewer distracting phone calls or trips to the office, and better info about every work order and customer.) Don't forget to tie the software back to your why (ex. "We value our staff's time and work-life balance.").
Make it easy to apply
A clunky, time-consuming application process can deter skilled technicians from applying to your company for a couple of reasons. One, it's inconvenient and time-consuming! Even job seekers who want to find a job ASAP will opt to apply at companies with easy application processes. Because why apply to one job when you could apply to four in the same amount of time?
And two, it indicates that you're not invested in making your technicians' work (and lives) easier with technology. Valuing your employees' time starts at the application stage.
Where there's already a small applicant pool, you need to remove barriers to job seekers by making it as easy to apply as possible. If you're still using a manual-fill application, consider providing an option to attach a resume instead. Or start accepting 1-click applications from job sites like LinkedIn and Indeed.
Promote your open positions
Successfully promoting your open positions will result in a better candidate pool. Sometimes, finding the best places to promote job postings depends on the type of role you're filling. If you're searching for an apprentice or entry-level technician, you might have the best luck at colleges or trade schools. Social media can also be a great place to connect with young, entry-level techs.
If you're searching for a senior-level technician, you might consider using a recruiter to assist in your search, or posting on LinkedIn. All positions can benefit from being promoted by current employees (employee referrals), on job boards, and via community networking (word of mouth).
Job Boards
Posting open positions on job boards like Indeed, LinkedIn, and ZipRecruiter allows job seekers to discover your open positions and gives them an easy way to apply. Many trade associations also provide job boards.
Colleges & Trade Schools
Posting HVAC technician job ads at relevant colleges and trade schools and attending job fairs is a great way to meet the talent where they're at and spread awareness about your company.
Social Media
Posting about or advertising open roles on social media can help you reach a larger audience of prospective candidates.
Recruiters
Tasking an outside recruiter to source and qualify candidates can be a great solution for busy hiring managers. The best recruiters will be familiar with hiring skilled labor professionals and the HVAC industry.
Referrals & Networking (community relationships)
Employee referrals are among the best ways to hire skilled and reliable technicians. For this reason, a high incentive referral plan can often be a great investment of your budget.
And the value of human connection doesn't stop with referrals. Networking at HVAC industry events, trade schools and online can help build awareness of your company and introduce you to your future best technicians.
Read more: Two Ways to Attract More Technician Applications
What to look for in the interview
Before interviewing, you'll want to carefully review each application to identify the candidates who meet the job requirements. Offer interviews to the top applicants whose experience and ability meet or exceed your expectations for the role.
Verify the applicant's skillset
Take the opportunity to speak with the candidate about their certifications and experience to verify they have the needed skills. Asking skills-based questions allows candidates to display their knowledge and expertise. When interviewing less experienced technicians, create an open environment that allows them to speak honestly about what on-the-job training they'll need.
Make sure the applicant has the right soft skills
The interview is your opportunity to confirm that in addition to having the right education and hard skill abilities, the technician is also a great personality fit for your team. Techs are the face of your business in the field, so good interpersonal skills and trustworthiness are important.
Onboarding and managing your team
Once you've found and hired the best HVAC technicians, you need to retain them. Many employees churn during the training period, so it's essential to make sure new techs see you as a competent and welcoming employer in this phase (and beyond, of course).
Commercial HVAC companies with the best employee retention rates provide fair compensation, training, mentoring, and opportunities for advancement and continued growth. Additionally, the best companies make their techs feel comfortable, heard, and respected. They provide a fair workload and maintain open lines of communication.
ServiceTrade can help streamline workflows and make your technicians' lives easier. The mobile application makes it easy for techs to keep their service calls and all related information accessible in one spot, and makes real-time communications and updates easy, saving techs valuable time.
Watch: Why BlueHat Mechanical technicians love ServiceTrade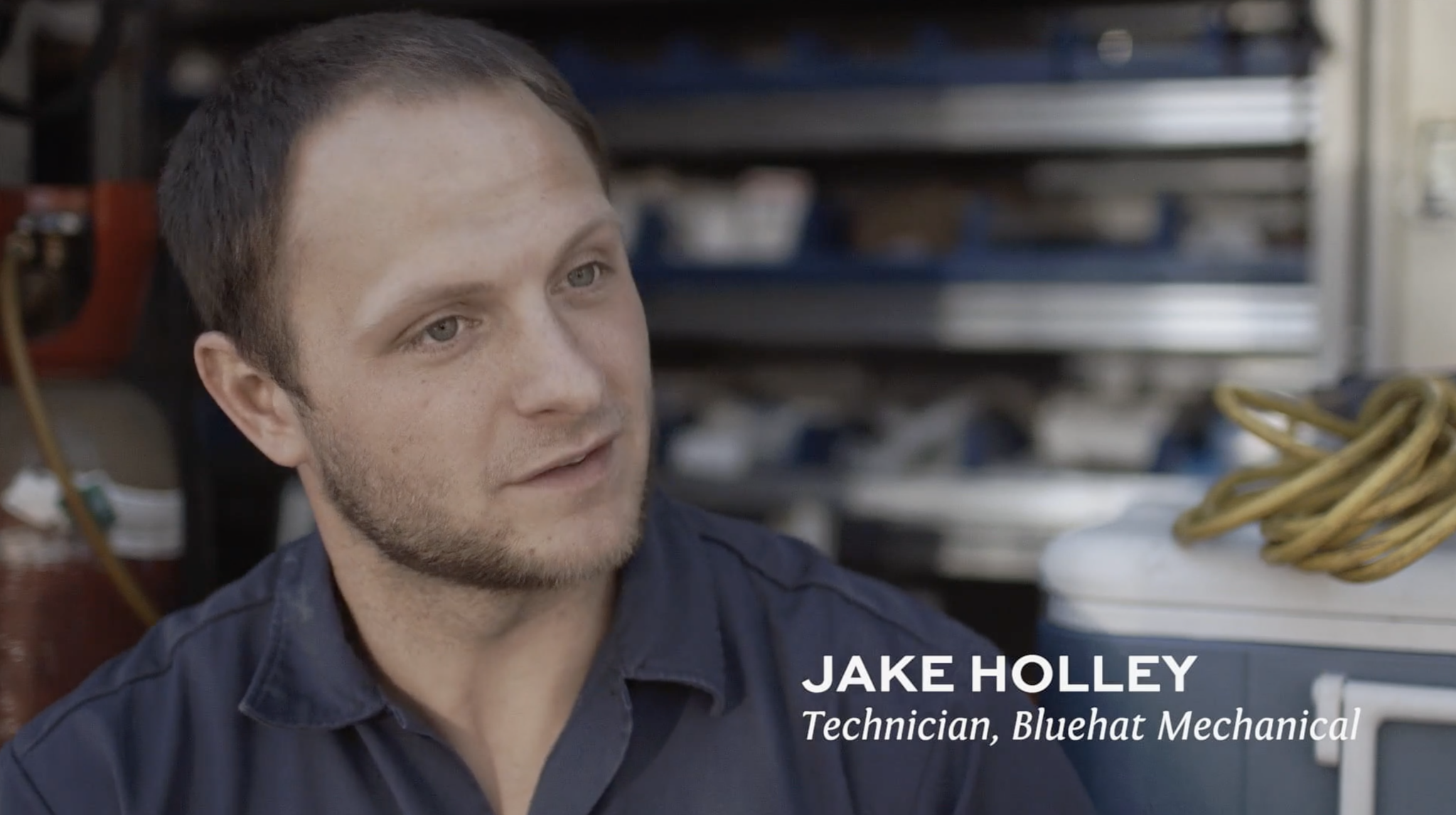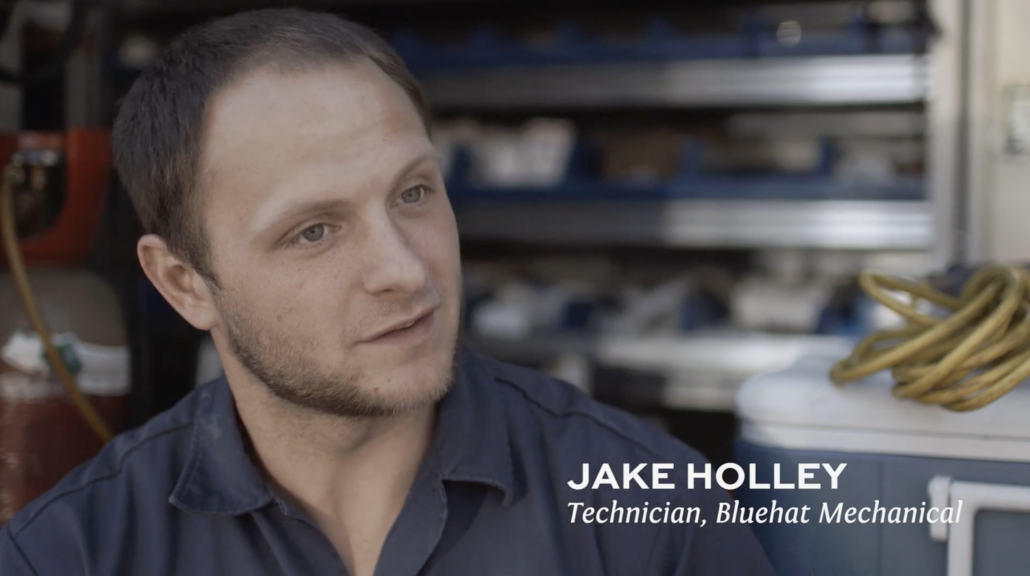 https://servicetrade.com/wp-content/uploads/2022/09/Screen-Shot-2022-09-12-at-1.27.25-PM.png
1008
1604
Molly McCormick
http://servicetrade.com/wp-content/uploads/2016/03/SERVICE_TRADE_LOGO_NO_TAGLINE_340x156.png
Molly McCormick
2022-09-12 13:37:09
2022-09-13 09:05:04
How to Recruit HVAC Technicians for Your Commercial HVAC Company