Three things that turn your customer marketing into customer retention
When Billy's Digital Wrap book came out, it didn't take long for me to realize that I needed to buy highlighters. At this point, my book probably has more highlighted passages than not. My favorite paragraph is from chapter 7:
The digital wrap delivers impressions to the customer (and prospects, too, in some cases) before, during and after service appointments. A digital wrap, like a truck wrap, is simply a set of service activities that places your logo, brand promise, value proposition, and contact information in front of the customers throughout the service cycle.
There's a lot of good stuff there, but I want to focus on the word "customer."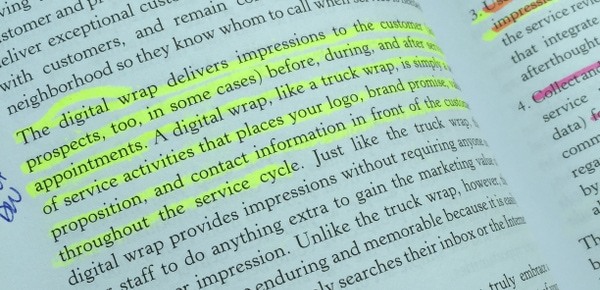 When you think about your marketing programs, and the audience for your marketing impressions, how much do you focus on reaching prospects and how much on customers? Maybe 100% on new business, and 0% on existing customers? Maybe 80% / 20%?
But we all know that keeping a current customer is much more cost efficient than adding a new one. Customer service surveys have shown that the service experience is the most important factor that influences retention. Customers get frustrated when businesses are difficult to work with, and they say that they want more digital interaction. With a digital wrap, you engage customers online with service artifacts that leave lasting marketing impressions for your brand.
So it's time to beef up your customer marketing program. The good news is that it's the most effective and cost-effective marketing. And if you do it right, your customers will appreciate hearing from you.
The three characteristics of a successful customer marketing outreach program are:
Each touch is personalized with content that is created naturally in service operations.
Your messages reach customers at a time when they're receptive to interacting with you.
It's not about you!
Use Personalized, Organically-created Content
You've heard that "content is king?" Content marketing is thought to be effective because it shows a company's breadth of knowledge in their area expertise, and it's an element of SEO best practices. Maybe you can even earn the coveted title of a "thought leader" in your industry.
The trouble with content marketing for busy service contracting companies is twofold: First, creating the content on a regular cadence; and second, getting it in front of your customers or prospects. Finding the right channels to reach your customers, engaging them, and getting them to take action takes a lot of dedicated time, effort and money.
Instead, create direct marketing impressions where the content is personalized to that individual customer's facility, equipment, and the work you will do or have done for them.
Some examples:
Between service calls: Alert customers to actions they may need to take as the weather changes, or even more personalized, as their equipment reaches a certain age.
During service: Use photos on a tablet to show the customer before and after photos to bring them into the experience and prove the importance of your partnership.
After service: Share all the photos, videos, paperwork and notes with the customer in an online report that they can revisit whenever they need.
Time Outreach Around Service Activities
Take advantage of the instances when customers want to engage with you instead of adding disruptive impressions that require an effort to get the customer's attention. It's cheaper, easier, more effective, and it incorporates marketing impressions into your service delivery.
Some examples:
Before service: Send a reminder email when a service appointment or inspection is approaching.
During service: Email the customer when the service team is on its way.
After service: Direct the customer to your website to get their after-service report.
Focus on the Customer
Have you ever tricked a young child into eating healthy foods by sneaking them into something they actually want to eat? I think about incorporating your brand into your customer engagement the same way.
Your online customer engagement gives the customer what they want: An easy way to do business with you that helps them want to keep doing business with you. Online customer engagement also gives you what you want for your marketing program: A positive brand perception by your customers, brand visibility, ways to showcase the value you provide, regular two-way communication, and an easy way to convert new service opportunities.
Impressions like these are extremely affordable and efficient for you to create and send to your most important marketing audience. Thoughtful, targeted, personalized customer marketing strengthens your relationships, ensures retention, and increases your revenue-per-customer.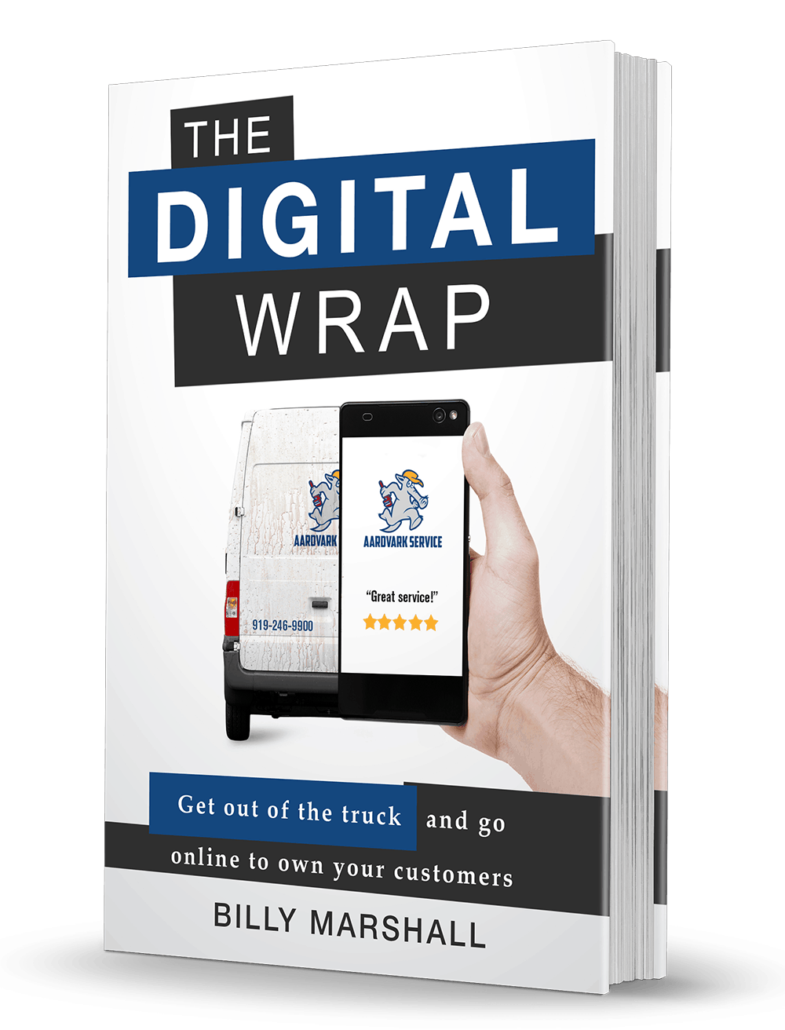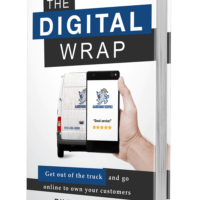 You can read the chapter of the Digital Wrap book that I mentioned for free. Head over to digitalwrapbook.com.
https://servicetrade.com/wp-content/uploads/2016/07/dwb.jpg
290
600
Shelley Bainter
http://servicetrade.com/wp-content/uploads/2016/03/SERVICE_TRADE_LOGO_NO_TAGLINE_340x156.png
Shelley Bainter
2016-07-27 15:24:54
2019-05-10 16:44:26
Three things that turn your customer marketing into customer retention