Here Comes the Amazon of Services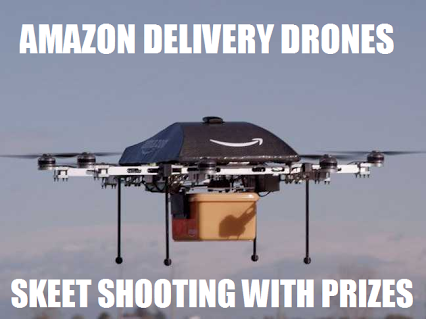 Drones probably won't impact your field service company, but Amazon's other accomplishments in online customer engagement most definitely will. Have you noticed that it is impossible to purchase anything from Amazon without first seeing a picture of what you are buying? On every page that references your items, there are pictures of those items. Here are some other questions about the Amazon experience to consider:
How often do you buy something from Amazon without reading the customer reviews first? And how often do you focus on the bad reviews to see what kind of trouble you might expect from the product? And how often do you ignore the good reviews that seem flowery or mushy with compliments but short on detail?
How many email updates do you get from Amazon regarding the status of your purchase? How often does Amazon call you with updates? How often do you call Amazon to request information?
Have you ever depended upon a paper invoice from Amazon as your record of what you purchased and how to pay?
All of the answers to these questions are simple and obvious, so I left them off. Yet most service contracting companies have not embraced the obvious lessons from Amazon. The whole world is being conditioned to expect online information about the things that they buy, and services will be no different. Look no further than Uber, the car transportation service, to see how service businesses will be operated in the near future. Skilled trades in service contracting will not be an exception. So what are you doing to prepare for the future?
If you manage or own a service contracting business, here are a few things to embrace before the Amazon of services embraces your customers and takes them from you:
Online Notifications – give your customers online status updates regarding service delivery. They do not want you to call, and they certainly do not want to call you.
Pictures – show customers what they purchased, or what you are recommending, via photos. Whether "before and after", or "was dirty, now clean," or "was broke, now fixed," or "golly, this looks bad, we better fix it," pictures are worth thousands of words.
Reviews – always ask for a review. It empowers the customer. It encourages good behavior from the technicians. It gives you content for your website that is valuable to the search engines.
Online Accounts – give your customers access to their service history and account settings from your website. It is convenient to them, and it lowers your costs.
Stop being nutty about invoices – give your customers a rich record of what they purchased, including details of arrival, items used, photos, signed acknowledgement by the manager, etc., and the invoice becomes a simple formality. When it is clear that value was delivered, the invoice can be a clean and simple statement of amount owed.
If these sound like upgrades you would like for your service business, we have good news. None of these changes to follow Amazon's successful model are difficult or expensive. Don't believe it? Ask some of our customers. There's nothing really special about ServiceTrade other than the fact that we are copying modern capability from other industries and bringing it to you. You just have to acknowledge that you want to do business with your customers in the manner of Amazon.
Also read:
"Online Customer Engagement is Bad Yelp Review Kryptonite"
https://servicetrade.com/wp-content/uploads/2016/03/Amazon-Air-Meme-1.png
319
426
Billy Marshall
http://servicetrade.com/wp-content/uploads/2016/03/SERVICE_TRADE_LOGO_NO_TAGLINE_340x156.png
Billy Marshall
2016-03-09 10:21:24
2019-05-10 16:28:26
Here Comes the Amazon of Services