The Only Certainties in Life – Death, Taxes…& Software as a Service (SaaS)
– Apologies to Ben Franklin –  .   The actual quote is  "In this world, nothing can be said to be certain, except death and taxes."   If Mr. Franklin were alive today,  there's little doubt that he would add a third item to this list –  Software as a Service (SaaS) …aka Cloud Computing.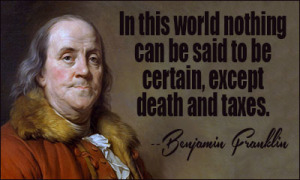 Why is SaaS as inevitable as Death and Taxes?  Why am I using Mr. Franklin's quote to segue into a discussion about the cloud?  To make a simple point — Change is inevitable and a dramatic shift is underway in the world of software.
Smart consumers of software know the advantages of the cloud and thus are demanding solutions based online.  (Rather than on desktop machines.)
Here's a great example:   QuickBooks.  This product is the king of accounting software for millions of individuals and small businesses (SMB's).  Because QuickBooks is such a popular accounting system for customers of ServiceTrade (all SMB's) , it also serves as a great example for this discussion.
Here's a quote from Oct. 2014 –   "QuickBooks Online hasn't received much attention over the years. Launched in 2000, it only had 100,000 paid subscribers in 2009, compared to QuickBooks' four million desktop subscribers. However, Intuit says at the end of last year they acquired a higher number of users online than on desktop — marking a shift in consumers.  Now the company is rolling out all sorts of features to their online product."
Do you think that QuickBooks is rolling out a ton of new features for their "desktop" subscribers?   Doubtful.  Will QuickBooks have a desktop version of it's products in a few years?  Very Doubtful.
The reason?  The cloud delivers a better product, period –  1)  No hardware to purchase/upgrade.   2) Connect from any PC or mobile device anywhere in the world.  3) New features added weekly instead of every few years.
SaaS Solutions are better.  Contact ServiceTrade and let us guide you towards the best software solution for your Trade Contracting SMB.
https://servicetrade.com/wp-content/uploads/2015/01/benjamin_franklin_quote_3-300x180-1.jpg
180
300
Billy Marshall
http://servicetrade.com/wp-content/uploads/2016/03/SERVICE_TRADE_LOGO_NO_TAGLINE_340x156.png
Billy Marshall
2015-01-22 15:01:50
2019-05-10 12:41:53
The Only Certainties in Life – Death, Taxes…& Software as a Service (SaaS)