Better techs, better service? Try a better experience.
Do you have a "Papa John's" sales pitch? They claim to have better ingredients, better pizza. Whether it's true or not, the financial markets have spoken and Papa John's is getting crushed by its biggest competitor, Domino's. Here's the stock growth for Papa John's and Domino's since 2009: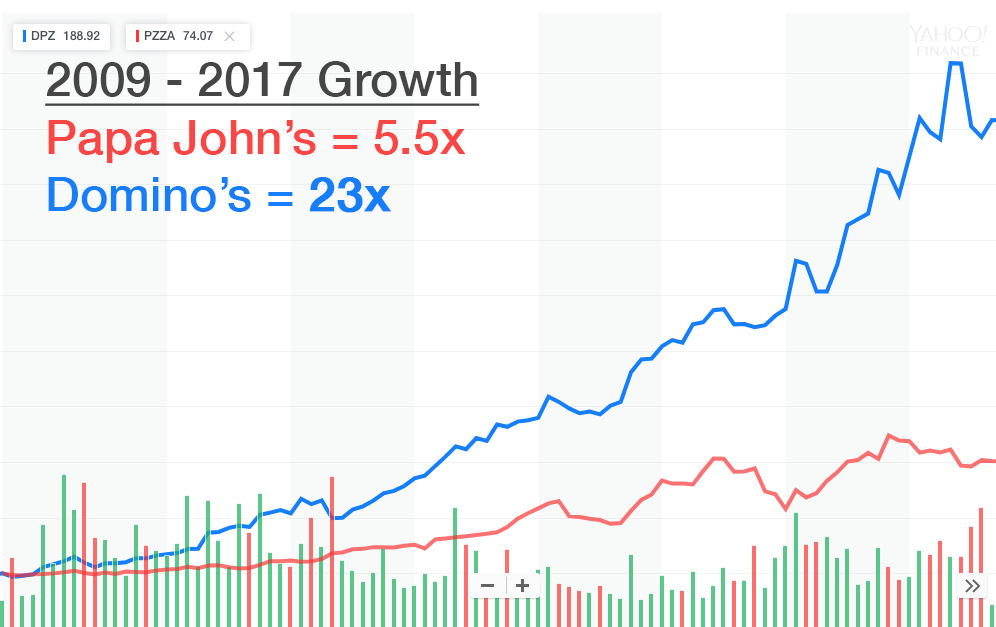 Does your sales pitch sound something like this: Better techs, better service? Even if it's true, why should your customers believe it? Your competition makes the same claims. Who should the customer believe? It's your word against theirs. The same goes for any other platitude you may use in your pitch. We care more. We work harder. We have more integrity. Prove it!
If it doesn't work for Papa John's and their multi-million dollar marketing budget, do you think it will work for you?
On the other hand, we have Domino's. Obviously, they are doing something very right. In 2009, they moved away from slogans and hollow talking points when they introduced their mobile app and pizza tracker. They did so to harness the power of the Experience Economy, which is summed up nicely by the Harvard Business Review like this:
"An experience occurs when a company intentionally uses services as the stage, and goods as props, to engage individual customers in a way that creates a memorable event. Commodities are fungible, goods tangible, services intangible, and experiences memorable."
In other words, successful companies like Domino's are winning more customers, making more money from each customer, and keeping them for longer by creating a memorable customer experience. And now more than ever, that experience is increasingly digital with fewer in-person interactions. For another example, consider Amazon's convenient shopping experience compared to the chaos of a trip to Walmart. That alone explains Amazon's wild growth compared to Walmart's lackluster stock performance.
The problem with a great customer experience is that most of it happens after the customer buys something, making it difficult to incorporate into your marketing and sales pitch. It's difficult to convince someone that's never used Domino's or Amazon just how awesome it is until they make the leap and try it out. Here are a few tips to overcome that barrier:
Adopt a modern customer experience:

If you don't have one, you can't sell it. This blog post is a great starting point to build your service company's customer experience:

Customer experience is more important to your business than customer service.

Use language that describes the experience:

Convenient, transparent, modern, accountable, and data-driven are all words that mean a lot more when you can back them up with a sleek, digital experience that offers these benefits. They stand out compared to what your customers are hearing from your competitors.

Give prospects a taste of the experience:

As quickly as possible, show prospects what your customer experience is like. For example, you can give them access to a demo account in your online service portal or send them a sample online job summary (in ServiceTrade, send them a Service Link) or quote with pictures and videos from a real job. They won't get the full experience, but they'll quickly see that you're a cut above the competition.
Platitudes won't get you anywhere. Until you align your sales pitch with a valuable customer experience, you're going to continue losing to the competition. Drop the Papa John's slogan and try to offer a Domino's experience.
Learn how to sell a service program with a modern customer experience: Webinar – Sell the program
Read more about Domino's strategy as it relates to service contractors: Domino's Dominance – There's an app for that
https://servicetrade.com/wp-content/uploads/2017/09/Papa-Johns-vs-Dominos-stock-price.png
627
996
Shawn Mims
http://servicetrade.com/wp-content/uploads/2016/03/SERVICE_TRADE_LOGO_NO_TAGLINE_340x156.png
Shawn Mims
2017-09-13 16:57:03
2019-05-13 10:08:01
Better techs, better service? Try a better experience.