254,484 Quotes: Fast, Rich, and Easy
Commercial service contractors, do delays in sending repair quotes to your customers impact your approval rate? How much? Are quotes more likely to be approved if they are paper or digital? Do pictures and videos help? These are easy questions to answer! Simply connect a business intelligence (BI) tool, like Amazon QuickSight, to the application you use to build and send quotes, like ServiceTrade, and analyze the data. It's easy as pie.
OK, maybe it's not that easy if you don't have access to all these applications. On top of that, you also need loads of data that spans enough time to find statistically significant results. Don't have access to all of those resources? That's OK. We do. We analyzed 254,484 quotes created in ServiceTrade between January 1st, 2017 and July 31st, 2018 that were submitted to facility customers. From that data, we found that if you want to get quotes approved, they should be fast, rich, and easy.
1. Fast
We analyzed the time between when quotes were first created to the time they were first submitted to the customer to determine how much delays can impact the approval rate. This analysis does not take into account the time between the initial discovery of quoted opportunities to the time the quotes were created, but still offers a glimpse into the impact of delays on a customer's probability of saying "yes."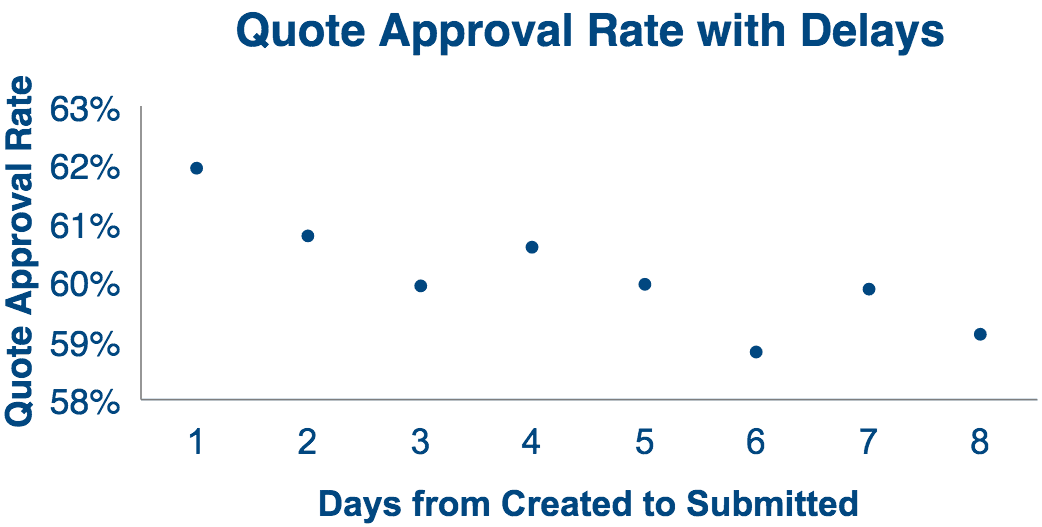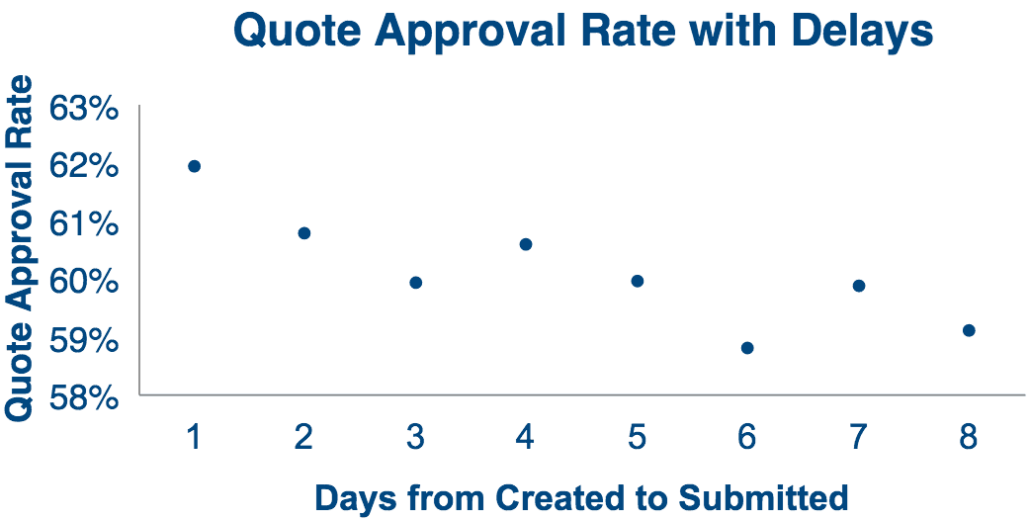 There's no real surprise here. The longer it takes to get quotes into your customers' hands, the less likely they are to approve them. The approval rate drops less quickly than I would have expected, but drops nonetheless. Turn quotes around as quickly as possible for the best outcomes.
2. Rich
Here's your get rich quick tip of the day: Take more pictures and videos, but not too many. Analysis of quote attachments, like pictures and videos, suggests there's an optimal quantity that can maximize your quote approval rate; it's 5. Fewer than that and you probably aren't showing customers the full story and why they should approve your quote. More than that and you are likely overwhelming your customers with too much information.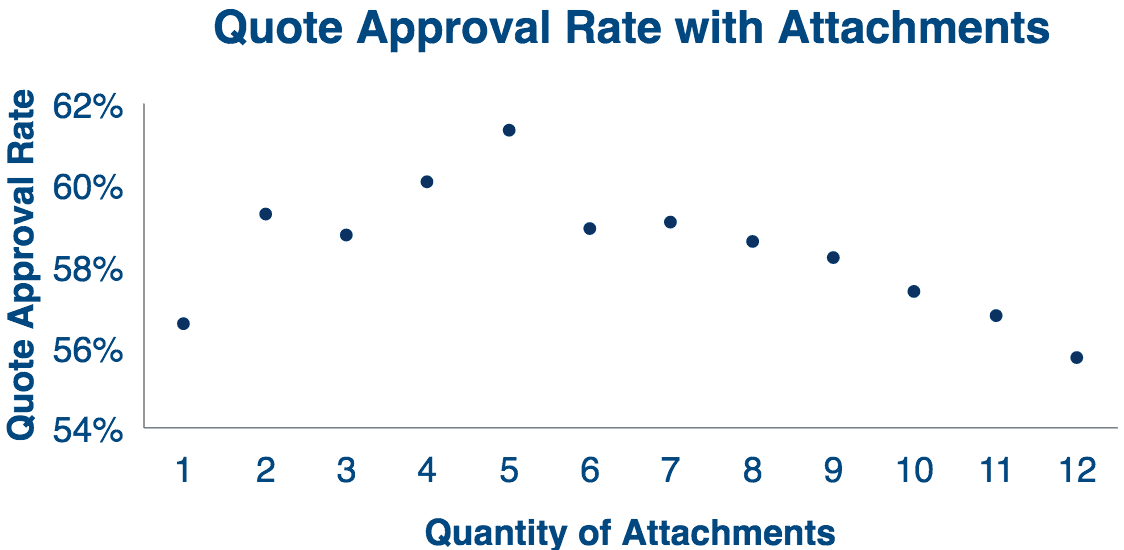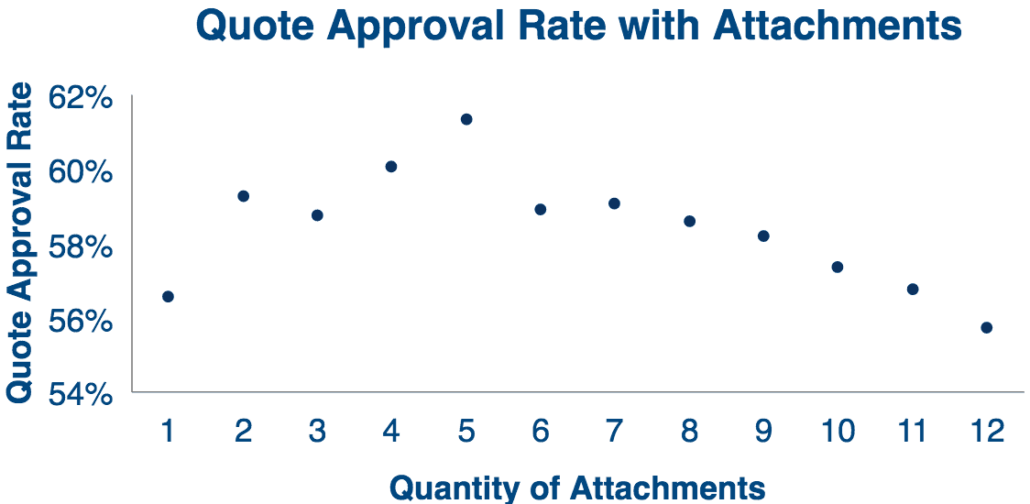 3. Easy
Companies like Amazon and Uber set a high bar for customer experience and convenience. Data shows that commercial facility customers expect the same from you. You're not going to spend billions of dollars on infrastructure to revolutionize commercial service contracting. However, simple conveniences go a long way. For example, sending quotes to customers online in a format that includes rich media and easy, one-click approval makes a big difference. Our data shows that ServiceTrade quotes that are viewed online are approved at a significantly higher rate than those that are not. For those that were not viewed online, this data does not distinguish between those that were delivered in a more traditional manner (email, snail mail, etc) or were just ignored by the customer. Either way, more views online mean more approvals.


You're competing for a share of your customer's attention and wallet. Their flooded inbox and growing to-do list make it easy for them to lose track of priorities like your quotes for equipment repairs. Data suggests that email reminders give your customers the extra nudge they need to remember and prioritize your quotes. Reminders have diminishing returns but are effective at boosting overall quote approval rates.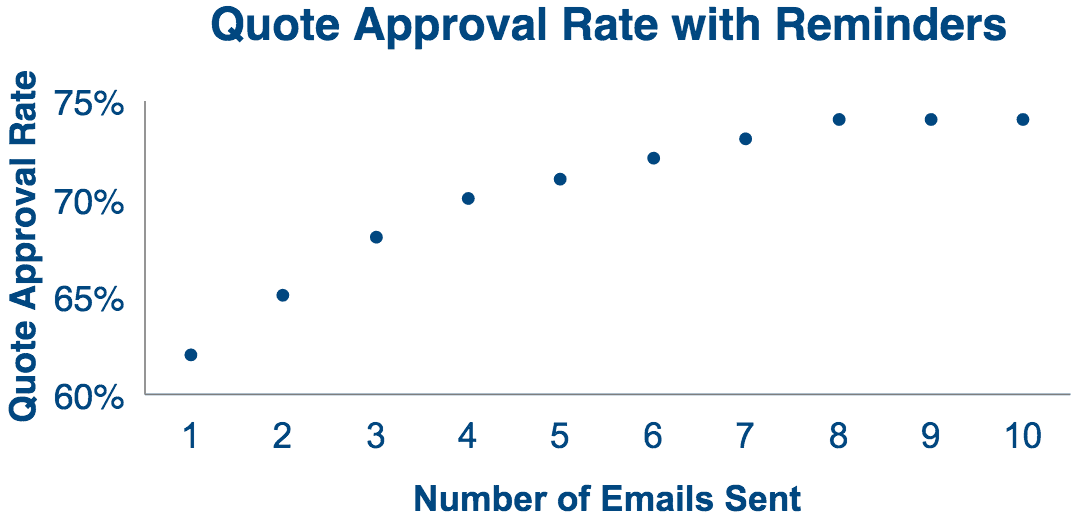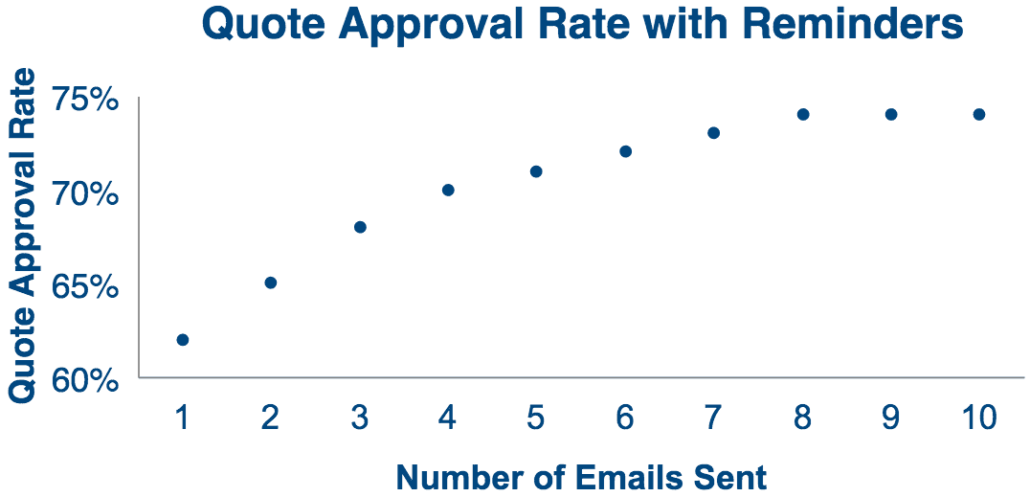 Data knows best. Make your quotes fast, rich, and easy to get the highest quote approval rate. Want to dig deeper into your own data? Check out the Amazon QuickSight reporting enabled by ServiceTrade.
https://servicetrade.com/wp-content/uploads/2018/12/New-Features-Review.png
300
640
Shawn Mims
http://servicetrade.com/wp-content/uploads/2016/03/SERVICE_TRADE_LOGO_NO_TAGLINE_340x156.png
Shawn Mims
2018-12-11 13:35:05
2023-03-22 16:13:22
254,484 Quotes: Fast, Rich, and Easy