Shelley Bainter asked me to write this blog post explaining why I decided I needed to write The Digital Wrap and Money for Nothing in support of ServiceTrade's marketing strategy.  It's a great question. Interestingly, the books are mostly an extension/expansion/elaboration on a collection of blog posts and research that I along with Shawn Mims delivered in connection with ServiceTrade marketing activities.  There are two fundamental reasons that I write, and the books are just an outgrowth of those.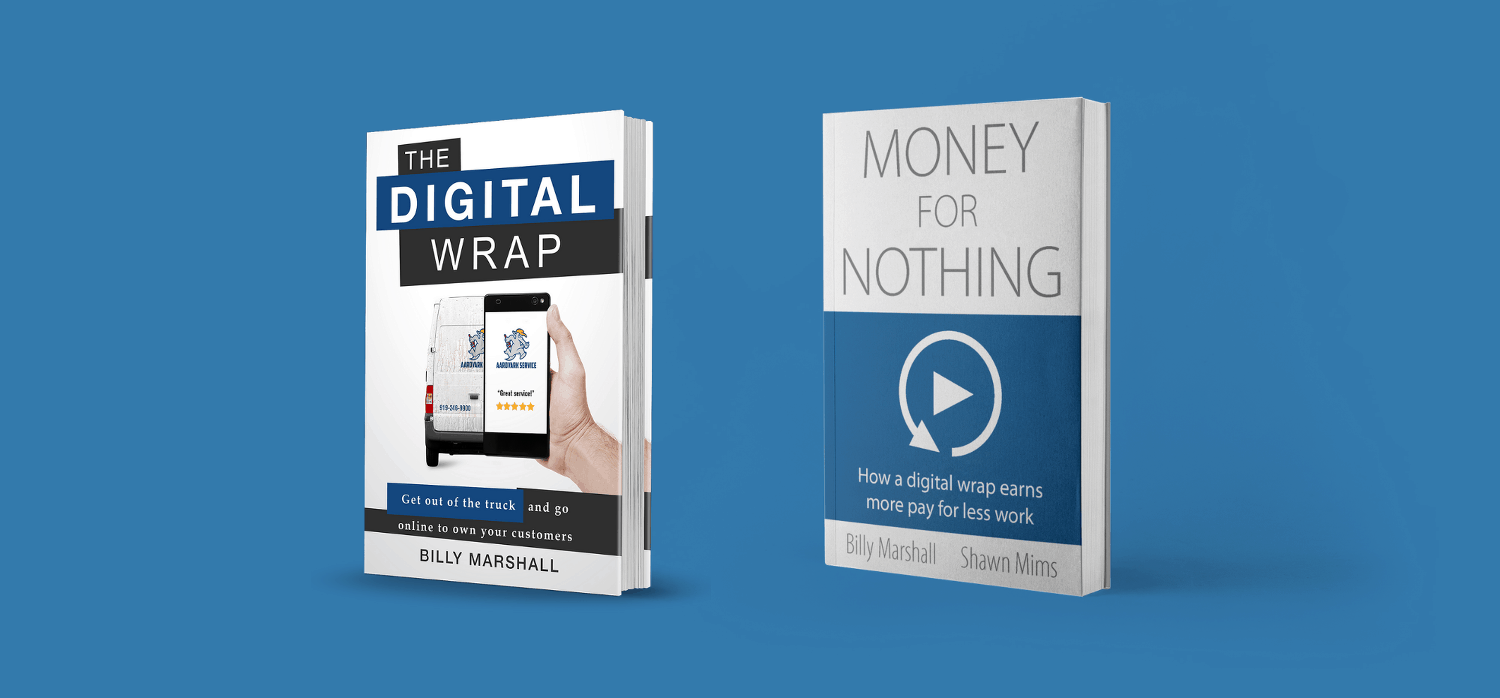 The first fundamental reason I write is because it helps me lead. I believe the best way to prove you are sane enough in your thinking to lead an organization is to commit your most important thoughts to coherent prose.  It did not surprise me at all when I read that Jeff Bezos banned Powerpoint in executive meetings at Amazon and instead required all important decision matters be committed to six-page memos with narrative structures.
If you cannot tell the story you want others to believe and commit to action, you are not prepared to lead. So I use writing to organize the ideas I want ServiceTrade to embrace and extend to our customers as our value proposition. It proves to myself that I am coherent in my thinking, and it gives my executive team something to debate, debunk, or improve for their own narrative purposes with their teams.
The second reason that I write is because I am a big admirer of the trick that two other MIT alums pulled with their company, Hubspot.  Long before Hubspot had a product that was worthy of market leadership, the two founders, Brian Halligan and Dharmesh Shah, had a concept that was worthy of market consideration.  They coined the term and wrote the book Inbound Marketing. It gave the new company, Hubspot, standing in the market prior to the product Hubspot having any significant leading features. Customers will invest in leadership ideas and demonstrate patience with the product if they see a bright future. Halligan and Shah demonstrated leadership and bought their company mind share that they were later able to convert into market share as the product matured.
Similar to inbound marketing for Hubspot, the concept of a digital wrap for ServiceTrade is new and novel among service contractors seeking technology solutions to enhance their business.  The digital wrap gives ServiceTrade something cool to share with prospects in order to challenge their notion of what it means to be competitive in a world dominated by digital experiences from Amazon, Uber, Netflix, Apple, and others.  How am I going to compete with an online customer service experience when my customers are comparing me to these mega digital experiences? ServiceTrade has a novel concept called the digital wrap that enables scalable and memorable online customer engagement.  Writing the books gives our small company standing in the market because we are talking about something unique, differentiated, and important.
You don't have to publish books to benefit from these reasons that I have adopted for writing. Use the concept of narrative memos like Bezos does to force you and your management team to organize your thoughts into ideas that can be acted upon.  Build compelling stories about your unique capabilities to share with customers in the form of blog posts or videos. It is easier for a customer to consider your product when they see or read a story that compels them to change their assumptions because they believe you are predicting the future.  A good story helps them buy into your value.
=-=-=-=
We'll give the first ten readers to respond a copy of Billy's new book, Money for Nothing. Send your request and mailing address to  shelley.bainter@servicetrade.com
https://servicetrade.com/wp-content/uploads/2018/11/two-books-blue-new-640px.png
253
640
Billy Marshall
http://servicetrade.com/wp-content/uploads/2016/03/SERVICE_TRADE_LOGO_NO_TAGLINE_340x156.png
Billy Marshall
2018-11-28 11:41:22
2019-05-10 16:59:32
Why I Write