Update Your Customer Service Certification
Commercial service contractors know a thing or two about continuing education (CE). Depending on your line of work, ignoring CE is not an option if you want to stay in business. Regardless of your line of work, encouraging CE throughout your team will keep you evolving and moving forward.
Most of the continuing education available is technical training where technicians learn about systems, safety, and code. But where are your techs and office staff learning how to use the systems you use in your business and how to give their customers a great customer service experience?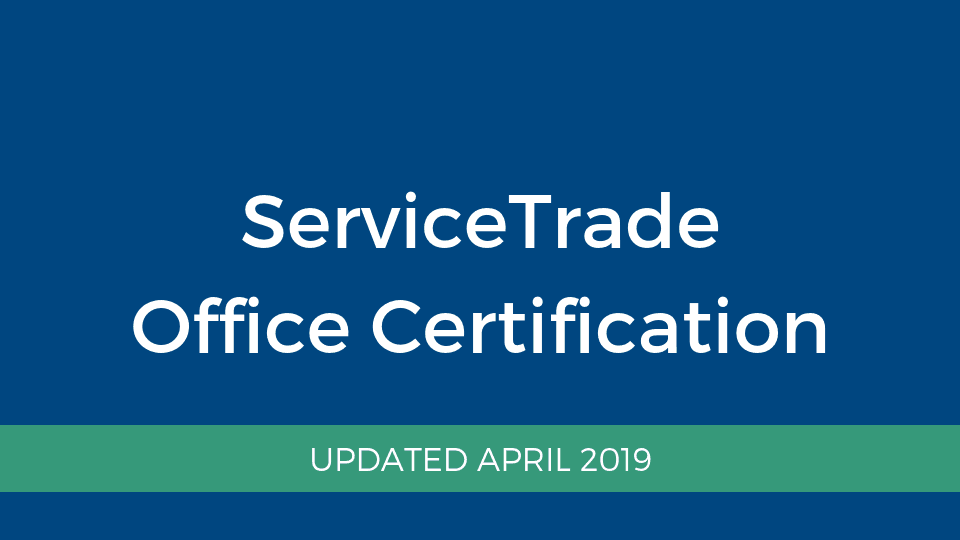 ServiceTrade Certification is online courses that teach users in all roles how to use the ServiceTrade web and mobile app. There are role-based courses for technicians, office users (schedulers, dispatchers, salespeople), and administrators (users with management permissions.)
The companies that get the highest return on their investment in ServiceTrade use the greatest number of its features. The average growth rate across our customer companies in 2018 was 18%, but it was even higher for those that take advantage of everything the app offers.
Application development moves fast. You've probably heard that we update our web app every two weeks (here are the release notes) and the mobile app quarterly (here are the release notes for that.)  With so much changing in our app all the time how do our users keep up?

The answer is simple, we update the online courses in ServiceTrade Certification as we evolve our applications. Your ServiceTrade Certification subscription gives you access to all the how-to instruction for new features.  
For example, we just completed a revision to our ServiceTrade Certification Course for Office Users.  Here are a few of the things we updated:

We added instructions about

navigating the ServiceTrade web app

that shows new users know where to find what they're looking for.

How to

set up customers and their associated locations

so when you need their data in the future, it'll be logically organized.

We renovated our

jobs page

, where you're likely to spend a lot of your time managing the work you do for customers.

When the work is done,

completing a job

signals to your teams that post-job customer engagement and invoicing can proceed.
If you aren't familiar with these parts of the web app, the course will teach you both how to use it and why it matters.  If you've previously been certified as an office user, log in to the ServiceTrade Learning Center and select the office course. The platform will automatically show you which lessons have been updated, making it really easy for you to only see what's new if that's what you want.
So, are you an office user?  If you are already ServiceTrade Certified, take a few minutes to see what's new in the course and start using these new capabilities.  If you aren't yet certified, you can learn more about the ServiceTrade Certification program at https://servicetrade.com/services/certification-courses/
Go to the Learning Center to take the course.
https://servicetrade.com/wp-content/uploads/2019/04/office-course-card-updated-april-2019.png
540
960
Shelley Bainter
http://servicetrade.com/wp-content/uploads/2016/03/SERVICE_TRADE_LOGO_NO_TAGLINE_340x156.png
Shelley Bainter
2019-04-15 14:48:27
2019-04-18 16:48:01
Update Your Customer Service Certification