The Constantly Changing Search Engine Marketing Game: AdWords Right Column Eliminated
The DVR is one of my favorite inventions because it takes the ads out of my way on the occasions that I watch network television or have recorded a Carolina Hurricanes game. I get back 20 minutes of my life during an hour-long network tv program, and that feels like a win.
You might say that Google's changes to their search engine results page (SERP) on desktops have also gotten ads out of your way.  Here's what a search result for "HVAC maintenance Raleigh" looks like today.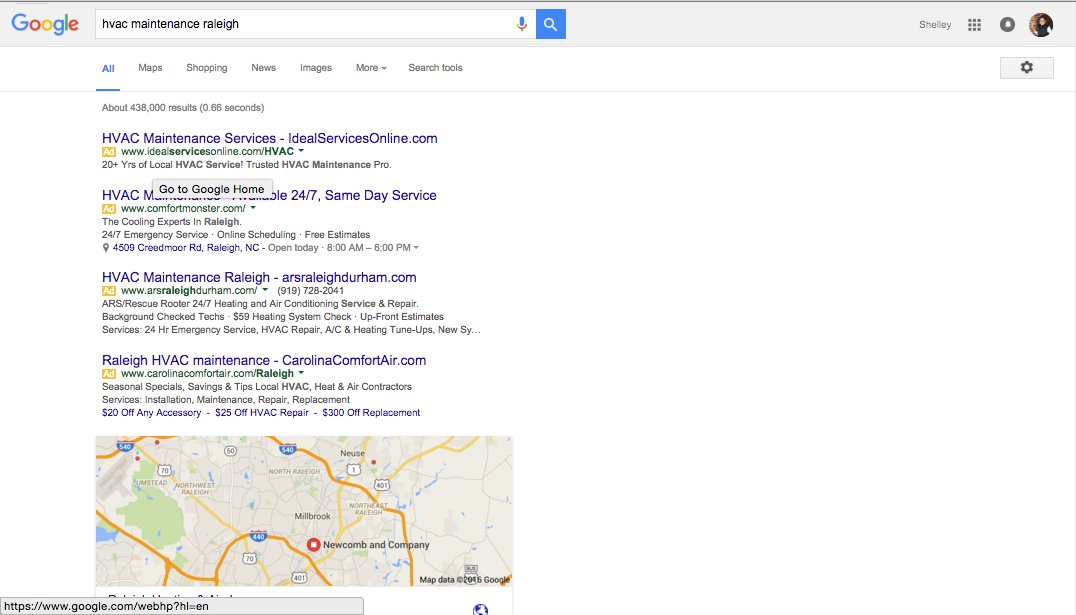 The blank space on the right side of the page used to be populated with a long column of text ads powered by Google AdWords.  Now the right rail is blank and the main column on the left has changed, too. More about that in a second.
Depending on your search, you may still see some results in the right rail. Searches for specific items will return product listings. My sample searches for hiking shoes (that I need) and my car (that I love) show the only ways that Google is using the right rail today — for searches that show buying intent. Time will tell how this real estate will be used in the future – it's hard to imagine that it will remain empty for long.
How the SERP has changed
Besides the disappearance of the ad column in the right rail, the main column has changed a bit.
On that search for "HVAC maintenance Raleigh":
There are now four Google AdWords text ads at the top of the SERP results in most cases (sometimes it's still three ads at the top, but most of my test searches display four ads).
There are now four Google AdWords text ads at the bottom of the search results page.
Organic search results are two screen scrolls down the page on my 17" MacBook, below the map. Organic results are one of four elements on the page – harder to pick out from the flashier paid placements or the pins on the map.
Panic Level:  Yellow
It may not be a huge loss. A leading online advertising company, WordStream says that the sidebar ads did not collect many clicks, that the highest percentage of ad clicks were made at the top of the main column.
But it has become more difficult to be visible on the page with a large number of ads now eliminated. The ideal situation is as it always has been: Play by the current SEO rules to rank as high as possible in organic results, and spend wisely for select pay-per-click placements.
Advice for Service Contracting Companies
Prepare for higher PPC costs.
There are mixed opinions about the inevitability of higher cost-per-click rates. Simple supply and demand indicates more competition for the coveted four spots at the top of the page. If you are running PPC campaigns through Google AdWords, it's important to closely monitor your spend and your results, and adjust your placement strategy accordingly.
Change your tactics for visibility.
Even if the ads in the right rail garnered fewer clicks, they did provide visibility on the first page to more brands. The number of ad spots on the page has decreased, yet those advertisers still desire the visibility on the page. Which means that everyone will now….
Work harder/smarter to be visible on the first page.
There's a legitimacy to organic results that doesn't apply to paid placements. So work harder to follow best practices for search engine optimization (SEO) and consider programs like Service Review from ServiceTrade that populates your site with keyword-rich content and boosts your search engine ranking through reviews from happy customers.
It's an unexpected decision for Google to reduce AdWords in a way that would seem to reduce its revenue potential. As we've talked about several times on this blog (see the related stories below), Google has an aggressive strategy for playing a bigger part in service delivery. Have no doubt that Google's plans, whatever they are, will make up for whatever it loses from AdWords and will become the next thing for service businesses to react to.
Also read:
Why Google's Relationship with Home Advisor Matters to Service Contracting Businesses
Google Home Services and its Impact on Small and Medium Businesses
Google Wants Your Service Business, Too
https://servicetrade.com/wp-content/uploads/2016/03/Google_AdWords_removed-300x171-1.jpg
171
300
Shelley Bainter
http://servicetrade.com/wp-content/uploads/2016/03/SERVICE_TRADE_LOGO_NO_TAGLINE_340x156.png
Shelley Bainter
2016-03-02 17:10:02
2019-05-10 16:29:47
The Constantly Changing Search Engine Marketing Game: AdWords Right Column Eliminated