Service Contractor Data Analysis Part 1: Measuring the Impact of COVID-19
Commercial and industrial service contractors were and continue to be hard hit by the COVID-19 pandemic. Just how hard-hit? Data from over 600 ServiceTrade accounts and over half a million appointments since the beginning of the year tells a daunting, yet optimistic, story about the current trends in facility work.
Plotting the total volume of service appointments across all accounts by week shows two very interesting trends. First, from March 15 – 29, there was a sudden, 29% decline in overall appointment volume. Second, the initial impact appears to have subsided and the overall appointment volume has generally leveled off.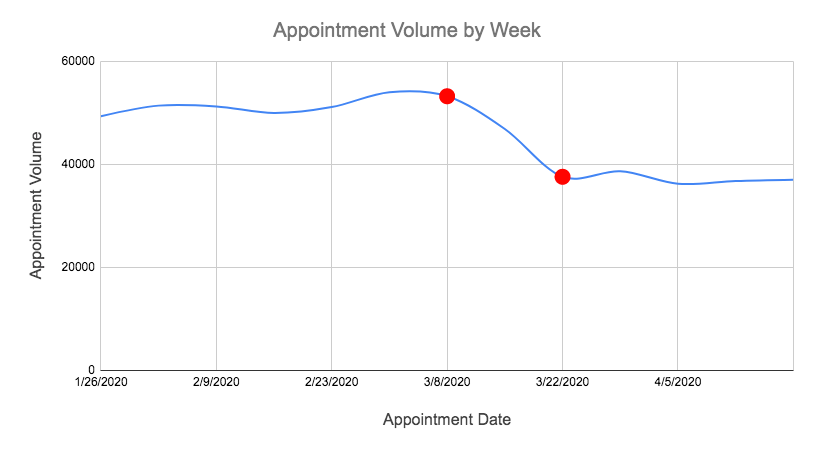 Some states and counties have been more severely impacted by the pandemic and have much higher infection rates than others.  To analyze the impacts of infection rate, we combined the COVID-19 data collected by John Hopkins University and merged it with US Census data to determine the infection rate per capita in each county. Next, we combined this county-level infection data with appointment address details to determine the local infection rate where the appointment was completed. Summarized, that data shows that if the infection rate in your area increases, you can expect a more severe decline in appointment volume.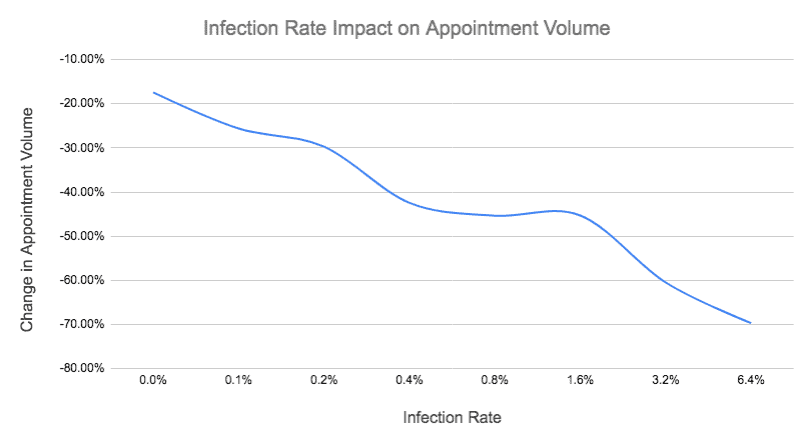 Obviously, the decline in appointment volume could be associated with a number of other factors such as the type of work performed and facility served. As can be seen in the graph below, most commercial and industrial service contractors using ServiceTrade follow a similar trend except for one particular vertical: kitchen exhaust cleaning. With most restaurants dramatically decreasing their volume and cutting their budgets, kitchen exhaust cleaners have experienced the most significant decline in appointment volume. Anecdotally, other types of service contractors that serve restaurants have told us that their business with restaurants has seen a sharp decline.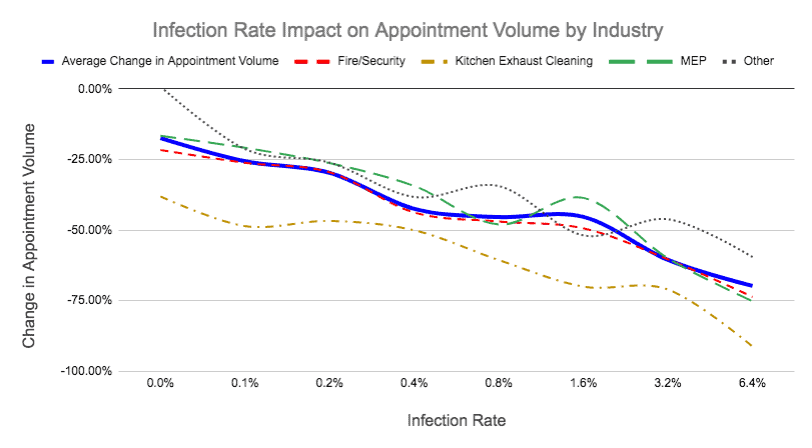 The charts above provide a stark warning about how drastic the impact of COVID-19 can be on your business if the infection rate in your area climbs above rates even as low as 0.1% – 0.2%. You can check out the John Hopkins interactive dataset to see your local infection rate. Despite the acute impacts of COVID-19 on appointment volume, data suggests that there is a glimmer of hope that work is returning. As of the writing of this blog post, quote approvals are up around 7% by volume from the low experienced during the week of 3/22/2020. Quote approvals are likely a leading indicator of work to come, so any increase is a great sign.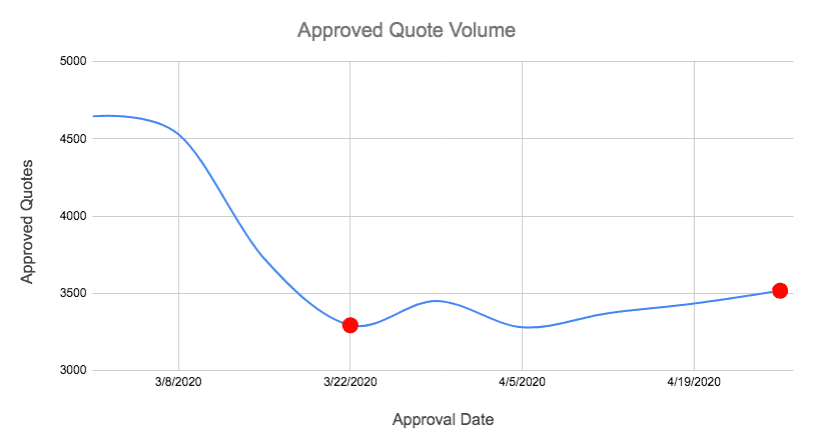 Data shows us that it's in all of our best interest to keep the infection rate as low as possible to avoid its disastrous effects on service appointment volume. We're all itching to get back to normal and quote approval volume suggests that we are, albeit slowly, on our way. Though work has not returned to pre-pandemic levels, data suggests that now is the time to get quotes in front of customers that are in a position to approve them. Make sure that you've sent a quote for every single equipment issue and deficiency repair opportunity your techs identified in the last year. Send out reminders for quotes that customers haven't responded to yet. Get the pipeline ready so your company can get back to work (while practicing safe social distancing). Stay safe and stay well.
Related Reading:
Part 2 of this data analysis published on June 3, 2020
254,484 Quotes: Fast, Rich, and Easy – a post about how to optimize your quote approval rate.
https://servicetrade.com/wp-content/uploads/2020/05/covid-infection-rate-impact-appointment-volume.png
447
812
Shawn Mims
http://servicetrade.com/wp-content/uploads/2016/03/SERVICE_TRADE_LOGO_NO_TAGLINE_340x156.png
Shawn Mims
2020-05-07 08:47:39
2020-06-04 11:55:16
Service Contractor Data Analysis Part 1: Measuring the Impact of COVID-19