How We Work From Home – Advice for Scattered Managers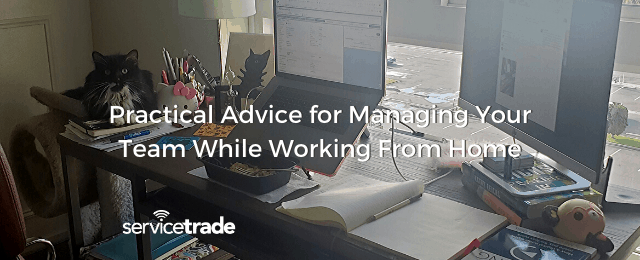 Working from home can be just as productive as working in the office, but it requires some changes in how you manage your team. I asked ServiceTrade's department managers to share the tools, management tips, and new ways of working that are helping our team stay focused, productive, and connected that might be helpful to you, too.
VP of Inside Sales Anna McMahon
I'm a millennial who has worked in the software industry for over a decade with companies that are designed to allow businesses to work remotely. But I do NOT like working from home. There are several things I need to do for myself and for my team to keep focus, productive and motivated.
Get into Work Mode
Stick to your schedule as much as possible. I wake up at the same time, get dressed and go to my workstation at home. Nothing has changed except I eat breakfast when I would typically be commuting to the office.
Plan your day and week.  Two toddlers with no daycare has been the biggest threat to keeping my pre-existing schedule. I plan out my week on Sunday and adjust as needed daily. This includes everything from meetings, projects I'm working on and interacting with the kids. For example, if I have a 2-hour block of meetings or needed time to focus, I will take an extended break to give the kids some attention and set them up with an activity that will keep them occupied. Additionally, because I have a clear understanding of what I need to accomplish, I get more done in those blocks.
Communication is Key 
Pick up the phone.  Reading emails all day at home by yourself is draining for an extrovert. When working remotely, pick up the phone rather than sending a message. This gives you more opportunities for that "oh while I have you" conversation. You'll hear and learn things that you might have missed otherwise because it wasn't seemingly important enough to send a message. The reality is it may be some EXTREMELY IMPORTANT that the whole team or company may need to be aware of.
Meet regularly and TURN YOUR CAMERA ON! This is a lesson from a time where I had team members in America, Europe and Asia. Times you would typically call may be an opportunity to hope into a google hangout and turn your camera on. We have recurring meetings with individual sales reps and as a team either daily or weekly. We've kept those on schedule but we've also added other meetings onto our calendar. We set up an Open Discussion time where team members can ask questions, share stories, brainstorm an issue or just talk to one another. ServiceTrade also did a 30-minute happy hour last Friday at 4:30 where anyone could join and just catch up. When everyone is suddenly working from home, we need to create opportunities for water cooler chats. Some of our best ideas have come from a conversation I walked into while getting coffee.
Watch your team like a hawk! I typically look at my team's metrics daily and weekly. Now, I've adjusted that to every couple of hours. If someone is tracking behind, I'll call them. Not to accuse but to see what's going on. Are there challenges I can help them overcome? Working on something that's taking longer than expected? Or simply they need to get back to work? If someone is doing great, I'll call that out to them and the team as a whole.
Communicate the Plan & Priorities. In times of change and uncertainty, strong leadership will be a huge determining factor of success. There should be a clear and consistent message on what's happening, what needs to be done and what's important. Typically this starts with a small group of colleagues or managers to ensure we're all on the same page and gather information from various stakeholders and team perspectives. This is then communicated to the team as soon as possible and reiterated during our daily meetings.
CTO Brian Smithwick
Stop me if you've heard this one before. Question: How do you tell the difference between a software engineer in the office and a software engineer working from home? Answer: You can't, because they only talk to you over Slack anyway!
Turns out that joke's true. Even in the old days when we were all physically in the same building (and, for a brief time, jammed together in the same room), ServiceTrade's engineering team tended to communicate with the rest of the company — and each other! — through Slack chats instead of in person.
Now our team is spread out across North Carolina, New York, and Europe, so we'd been exercising our remote-communication muscles every day even before the recent unpleasantness with COVID-19. Here's some things that we've learned along the way:
Invest in your communication tools
When your team isn't physically together, 100% of your communication is going to happen on your computer and phone, so those devices — and the applications on them — had better work. If your co-workers can't hear you because your microphone stinks, you can't be an effective communicator. DO NOT TOLERATE THIS. Make sure your hardware (computer, camera, headphones, microphone) is up to the task. Amazon trucks are still running, and they will happily deliver a new headset to your doorstep if that's what you need.
Same goes for communication applications. In addition to Slack chats, our team uses Google Meet for team video meetings and Slack video calls for one-on-one screen-sharing sessions. Find tools that work for your team and — most important! — make sure everybody knows how to use them. If every meeting starts 10 minutes late because Johnny the Luddite can't find the unmute button in Zoom, everyone's time is wasted. Schedule a practice session for everyone if you need to.
Don't be afraid to bump up the communication bandwidth
Slack is fine for most conversations. If the subject matter gets confusing or the discussion gets heated, however, words on a screen aren't enough. Move up to a live verbal conversation (Slack call or good old telephone call). If that's not enough, bump up the bandwidth again and switch to a video chat (FaceTime, Google Meet, Zoom). A single conversation might start as a Slack thread and end up as a team-wide Zoom meeting. That's OK! Phone calls and video chats aren't precious resources. Use them.
Email, on the other hand, is rarely a good choice for anything that needs to happen in anything close to real time. It's just too slow, and people's inboxes are too full. Leave email for external conversations and use something better internally.
Find ways to initiate ad-hoc conversations
Even if your team is great at Slacking and Zooming, it's really hard to replace the spontaneous, ad-hoc conversations that generate so many great ideas. Make space for those conversations. This week, I started holding "office hours" — really just a Google Hangout that I'll, uh, hang out in — a couple of times a week so people can drop by and chat about whatever they would normally have discussed in the hallway or at the coffee-maker. For the introverts on your team, be proactive: Reach out once a day or so and make sure they're not floundering in silence. For the extroverts on your team, ALSO be proactive, because they're probably going crazy by now.
When all this is over, you'll be a stronger and more effective team if you use this as an opportunity to build up your team's communication capabilities — and the odd snow day will seem like no big deal at all.
VP of Customer Success James Jordan
One of the most interesting aspects of this surge in remote working is that a lot of software companies that make tools for working remotely are making their services free right now. Don't be afraid to try some of these out! This might be the perfect time to give Google Meet a try. Google has expanded their free tier to include up to 100 participants during the pandemic. Our Success team uses Meet every morning for a standing meeting where we go round-robin and talk about what we're planning on doing for the day. Ensuring that your team turns on their camera is essential for re-creating the feel of in-person interaction, and filling in the socialization gaps we're all feeling right now.
There's also Zoom which we use for meetings with customers, since we can have audio, video, and screen sharing capabilities. We've used Zoom pretty heavily even before the pandemic, but I like that they've set up a dedicated page of resources to help people through this tough time they're calling "Support during the COVID-19 pandemic."
I'll also throw in a plug for Slack, which already had a great free tier (we used it for free for years before switching to a paid plan). It's an excellent tool to stay in touch with other people in your company. It works on mobile devices, Mac, PC, anything with a web browser. It's the perfect combination of instant messaging, reminder service, notification platform, and ad-hoc meeting space (using Slack Calls). Many times I'll Slack Call a teammate to get some quick help with something, since I can use audio+video and also share my screen. It's the next best thing to randomly popping into someone's office to get a quick answer!
Slack is also a great way to blow off steam. You can create channels with groups of people to talk about their experiences working remotely, share solutions to the challenges everyone is facing with not being in an office, and keep each other sane — which is often overlooked but incredibly important right now! On our team, Lindsay Carter has been keeping us all endlessly entertained by uploading videos of a bird that is determined to get into her house. It keeps flying into the window, over and over, and she has escalated her attempts to ward the bird off to hilarious new heights every day. See for yourself in this 4-second video. Is this technically considered work? No, but it keeps the team from going stir-crazy, and ensures that everyone feels connected to one another and to the company, and that both facilitates and motivates the team to push through this pandemic.
Senior Director of Marketing Shawn Mims
Our four-person marketing team has two pieces of advice so far for working from home:
Measure What Matters
We're lucky that Greg Berger on our team nerds out on data and has been building new reports that measure our sales and marketing programs. Our first recommendation is to build the reports that will help you measure where your business is being impacted by COVID-19 closures and the shift to a remote workforce so you know where your attention is needed. The type-A personalities on our team are struggling with a loss of control due to so many outside influences, and they've found this increased understanding helps them remain focused on where they can be impactful.
Stay Connected. And Laugh.
We learned within the first week of everyone working remotely to get over any shyness about our webcams and resumed face-to-face meetings. Ginny Allen has been raiding her children's dress-up closet and has shown up with the best head gear that starts our morning check-in meeting with a huge laugh! Not only have webcam meetings kept us connected but when we became comfortable sharing ourselves in comfy sweatshirts, un-styled hair, and no make-up it reminded us that we're all here to do our work.
Director of Sales, West Lauren Rice
Lauren moved from our Durham, NC headquarters to California in January 2019 where she became a strong voice for strengthening communication and advocating for our remote workers. Lauren shared her top three things for a manager to keep in mind.
1. Isolation Island: Working as a remote employee can be extremely isolating at times, like being on a desert island. Regular phone calls, (more frequent at first) while in-office employees are adjusting to being remote, make all the difference in the world… even if it's just to chat about the latest binge-worthy Netflix show!
2. O-VER COM-MU-NI-CATE: Chances are, your social butterfly employees who are used to working in the office will have a hard time adjusting to not being able to interact with coworkers on a daily basis. Regular communication is good, but err on the side of caution and over communicate! Your employees will let you know if it's too much… which it won't be. No one likes to feel out of the loop.
3. Be Available: Working from home can feel a little like the wild west: rules just don't exist. Most days, I'm on Slack by 7am and, by 2pm, I suddenly remember I haven't eaten all day and force myself to take a break. Then I find myself wrapping up the day's emails at 9:45 at night. Don't be surprised if your employees take some time to adjust to a new routine and need a little bit of flexibility in the times they need to communicate. Oftentimes, I call my boss, Tim, quite late in the day for help and he always tries to be available when I need him.
https://servicetrade.com/wp-content/uploads/2020/03/slinky-featured.png
260
640
Shelley Bainter
http://servicetrade.com/wp-content/uploads/2016/03/SERVICE_TRADE_LOGO_NO_TAGLINE_340x156.png
Shelley Bainter
2020-03-30 13:49:33
2020-04-02 12:33:37
How We Work From Home – Advice for Scattered Managers