5 Questions with Brad Boggs, B&W Mechanical Contractors
ServiceTrade customer Brad Boggs is Vice President at B&W Mechanical in Atlanta, Georgia. They've been using ServiceTrade for about three years.
Brad has extensive experience running service operations remotely – whether that's when he's on the road during a busy day of customer visits, or the few instances when he's had to work at home. We called Brad on Monday, March 16 to find out how the COVID-19 pandemic has changed the way his team works. 
Brad, how is your office working right now?
We haven't instated a mandatory work-from-home policy, but have made it clear to employees that they're welcome to do so. We have a lot of parents whose children are out of school, so we have about half of the office working remotely.
Update: Since we spoke with Brad, all B&W Mechanical employees have transitioned to working from home.
As a VP in charge of service, how are you keeping track of everything?

I'm almost always on the road anyway, so I'm used to using my laptop and phone to get work done. With ServiceTrade, I can access the full view of where everybody is and everything that is going on. 
How about the front office? Are the dispatchers keeping up?
It's easy for our front office team to login to ServiceTrade while they're working at home. Our accounting system takes a bit more effort to reach remotely, but we can connect to accounting and keep customer invoices going out.  
What about technicians?
Being in the Atlanta metro area, our technicians have always dispatched from home so there's been no change for them. Coming to the office to begin and end the day would waste too much of their time. 
Our technicians work individually or in pairs and the nature of our mechanical business is that they aren't around a lot of people so their exposure is extremely limited. In ServiceTrade's mobile app they're getting info to our office staff and the customer without having to see them face-to-face.
How do you know if productivity is where it needs to be?
I do have some concerns about this, especially since so many things in our business are dependent on when things come in from the job. I don't want remote employees waiting for something to happen, I'd rather they be productive all the time. 
A daily report on employee activity in ServiceTrade gives me an idea of how much each employee is producing and where we might be experiencing backups. Generally, though, we measure most activities on a weekly basis since each day's tasks are not exactly the same.
What are you hearing from your customers?
We've had some customers take advantage of lower occupancy in their facilities to do some needed maintenance. We work with a lot of schools, hospitals, the airport, and several restaurants that haven't slowed down.  We may see that change, but these days we're still working at full capacity.
======
This image is a sample report from ServiceTrade that shows the jobs that were completed and invoiced for the past week. The many filters on the jobs and quotes list make it easy to see activities completed and those yet outstanding.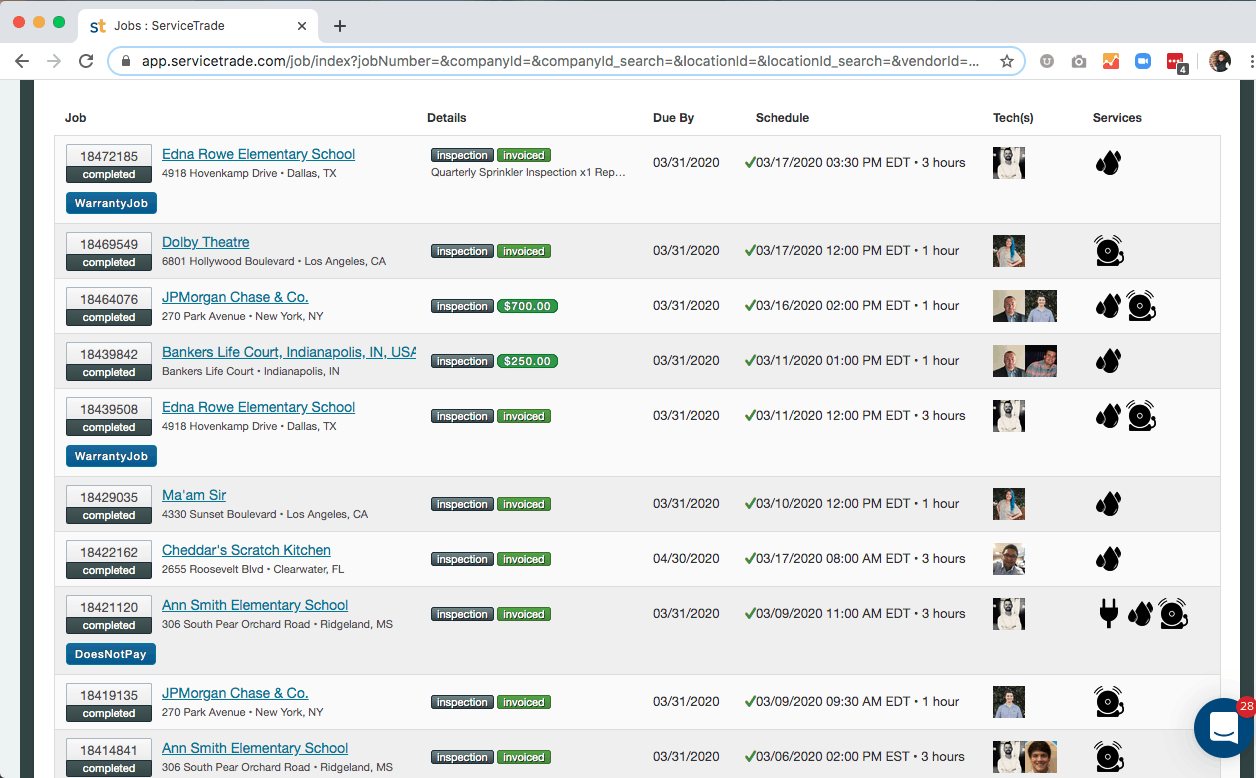 https://servicetrade.com/wp-content/uploads/2020/03/brad-shawn-640x337.jpg
337
640
Shelley Bainter
http://servicetrade.com/wp-content/uploads/2016/03/SERVICE_TRADE_LOGO_NO_TAGLINE_340x156.png
Shelley Bainter
2020-03-18 12:39:18
2020-04-10 07:49:01
5 Questions with Brad Boggs, B&W Mechanical Contractors