As ServiceTrade grows, I am reflecting on the responses we get from customers on their purchasing criteria for service management software.  As it turns out, buying software is not much different than buying anything else you might consider in your life – which is the way it should be.  Here are some tips for spotting good software: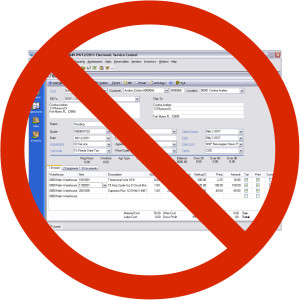 Pretty
Turns out that good software is usually attractive and easy on the eyes.  If the interface reminds you of the early days of Windows 3.1, you probably don't want to sign up as a customer.  If it looks like something that you would see on an iPad in your living room, it might be good software. If it looks ugly and clunky, it probably is ugly and clunky.
Cloudy
There are few companies in the world that should be running their own servers and administering software infrastructure, and most likely you are not one of them.  If you see "free download" or "server requirements" or "installation manual" anywhere in the advertisements or documentation, it is probably not the solution for you.
Tiny
Not every element of every application will be mobile and portable, but many of all should be. Business does not stop and start at the threshold of your office building.  The more functionality that is able to fit into your pocket, the better.
Inexpensive
If it does not feel like a good deal, it probably isn't.  I cannot think of a single software product we use at ServiceTrade that does not feel comfortable on the income statement.  If it hurts the wallet, it is probably because the vendor does not serve a broad market (or has no ambition to do so), and therefore you must pay the price.  Question closely the business model and ambition of the vendor.  You want vendors that serve large markets efficiently so you do not get trapped by high cost and low functionality.
Reference-able
Ask for lots of references, call all of them, and ask lots of questions.  If the references are not people and companies that you admire, if they do not gush about the partnership or functionality, if they seem uncomfortable talking about the details of their experience, caveat emptor. Keep looking for something better.
I absolutely believe that all of these elements for qualifying a software purchase (which coincidentally are easy to determine with a moderate amount of inspection) are better than the often touted "Return on Investment."  ROI can only truly be calculated via the rearview mirror as you ponder the actual results.  At that point, the wreckage you see behind you may have cost you a huge amount of money with no positive ROI in sight as you shift your focus to the windshield and the road ahead.
https://servicetrade.com/wp-content/uploads/2014/03/bad-software-300x300-1.jpg
300
300
Billy Marshall
http://servicetrade.com/wp-content/uploads/2016/03/SERVICE_TRADE_LOGO_NO_TAGLINE_340x156.png
Billy Marshall
2014-03-12 21:54:08
2021-02-02 15:47:52
5 Tips for Spotting "Good Software"